Carly Pearce Celebrates 4th No. 1 Song, Says She Thought She Was "Going To Die"
Carly Pearce says she hopes people who hear "What He Didn't Do" are reminded they "matter, too, and that they deserve better."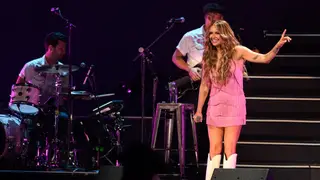 Carly Pearce celebrated her fourth No. 1 song – "What He Didn't Do" – in Nashville this week with the writers who wrote it with her, Emily Shackleton and Ashley Gorley. "What He Didn't Do" is the final single from Pearce's award-winning album "Written In Stone" and was inspired by the end of her marriage to fellow country singer Michael Ray.
"This closes a chapter for me in my life," Pearce said at her No. 1 party. "I thought I was going to die."
The Kentucky native said she and Gorley had already written a song and were packing up when he asked her what Ray did.
"And I said, 'What didn't he do?'" Pearce said. "And he said, 'Sit down.'"
When they finished, Pearce called her mom and read her lyrics because she was convinced it was powerful. She just didn't know how powerful. She and Shackleton played "What He Didn't Do" at Nashville venue the Listening Room Café. Someone took a video, posted it online, and it had thousands of views the next day.
"It became this storm that I don't think any of us even knew," she said. "I've never had a song that caught fire from me playing it one time."
Earlier this year, Pearce told CMT that she wrote the song at a time when she needed to remember she deserved better and that she "needed to be reminded of my worth."
"What I hope now, being on the other side of that and not questioning that anymore, is that whoever's listening that might be in the middle of that battle that I know very well, that they can be reminded that they matter too and that they deserve better," Pearce said.
Pearce explained that she's still walking the journey through healing but that starting to date again helped her a lot.
"I think the awareness of being in a better place and realizing that that relationship did not serve me well came pretty quickly once I started dating again," she said. "I needed somebody else to show me what I actually deserved, what it could be."
Pearce recently debuted "Carly Pearce - 29: Written In Stone (Live From Music City)" on CMT. The show was recorded in front of a live audience in Nashville and puts a bookend on her critically acclaimed album "29," which chronicled Pearce's experience with divorce, growth and healing.
"29: Written In Stone changed my whole life in every way," Pearce said on Instagram. "To those of you who got to experience it on the road with me, those moments were some of my favorite of my entire life."
The one-hour special includes nine performances and special guests Ashley McBryde, Lee Brice and famous fiddle player Jenee Fleenor.
"Carly Pearce - 29: Written In Stone (Live From Music City)" will encore back-to-back with "CMT Defining: Carly Pearce," the network's new series Pearce launched in celebration of the 10th anniversary of its "CMT Next Women of Country" franchise.
The show will air 7p/6c today on MTV Live and 11p/10c Thursday on (MTV Live).