Blake Shelton Says Jimmy Buffet Wrote The Theme Song For His Action-Packed Game Show
Blake Shelton reveals how he got Jimmy Buffet involved in his hit television show, "Barmageddon."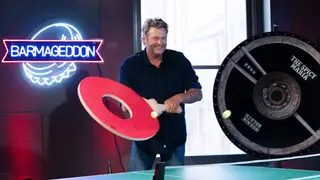 In early December, Shelton's action-packed show featuring close friend Carson Daly and WWE Hall of Famer Nikki Bella premiered, showcasing a playlist-worthy theme song. Shelton delivers the electrifying hit at the beginning of each episode, but the crooner can't take credit for the feel-good lyrics that captivate viewers nationwide.
The singer-songwriter previously caught up with USA Today to discuss how he got Buffet on board his new venture. Shelton told the outlet that he was initially interested in using Buffet's chart-topping track "Margaritaville."
"So when you do these television shows, and you're gonna perform a song, you have got to reach out to the writers of the song and get permission," explained Shelton. "I have a mutual friend with Jimmy Buffett…and we reached out to get permission to sing 'Margaritaville' as one of the intro songs – every show opens with a sing-along song," he pointed out.
Shelton said that Buffet's team was quick to answer, and he was pleasantly surprised by the response.
"I got an email back from [them], they just forwarded Jimmy's email back to him on to me that said, 'Yeah, they can do this song…I love the title of that TV show. That sounds like a good song.'"
In true Shelton fashion, he did not let an opportunity pass him by. The platinum-selling artist took a creative risk and asked Buffet to write a song specifically for the show.
"I figured Jimmy Buffett can pull this off if anybody in the world can," he said. "It's got to be Jimmy Buffett…it ends up being perfect. I mean, it really is actually just [a] good, fun song. It gets stuck in your head, and I mean, who else can that Jimmy Buffet wrote the theme song for the TV show," Shelton added.
Buffet penned the party anthem alongside critically acclaimed songwriter and bandmate, Mac McAnally. The up-tempo theme song displays Shelton's recognizable Oklahoma twang and is stacked with stirring guitar solos that will leave fans at home glued to their television screens.
"Barmageddon | High tech coffee talk | Shotgun weddin' | There ain't no telling | How it's gonna go| Barmageddon," Shelton sings in the first verse. "You never know | Just what you're getting'| Win, lose, or draw | It's gonna be a show."
The must-watch series takes place at Shelton's Ole Red bar in Nashville. Although Shelton and Daly serve as executive producers, they also tackle several different roles. "The Voice" judge frequently performs with his house band, as the long-running media personality whips up cocktails behind the bar.
Celebrities go head-to-head in five battles each episode to win a grand prize.
"Barmageddon" airs Monday nights at 11/10C on the USA Network.