Lennon and Maisy Stella: "We Lucked Out"
The Girls Talk Sisterhood and Saying Goodbye to the 'Nashville' Family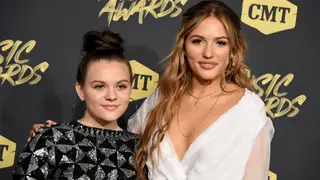 It's hard to believe Nashville is almost over, and no one is feeling the bittersweet emotions harder than Lennon and Maisy Stella.
The sibling stars have practically grown up on the show, right before our very eyes, with poise, grace and gratitude you don't often see these days in young Hollywood.
Maybe that's because this is young Nashville.
Lennon, who plays Maddie Jaymes, has a gorgeous home in Music City and plans to remain here to continue her solo career as an artist. After all, how could she leave? So many of the elder Stella's career memories began in this city and on a show built around its community. And having those memories and years of growth on film to relive over and over again is truly a blessing to her.
"It definitely has its parts that can be difficult, like having all of your awkward phases documented," the 18-year-old star joked to CMT.com during a recent chat.
"But it was so special. Being surrounded by the people on this show—everyone is amazing. It was the most amazing group of humans to be raised by."
And that's not necessarily the gospel truth for every TV show out there. "We lucked out. It's really rare -- that's not always how it goes," she said. "Obviously, having your sister with you is just the dream. We're just so close, so it was the perfect setup. Having Maisy there was the best part of it, and having all that documented, you and your sister from age 8 and 12 to 14 and 18 is incredible."
And Maisy shares the same feelings as her sister about her time as a cast member, maybe to a deeper extent because her time on Nashville began at an even earlier age.
"I really don't even remember filming season one because I was so young!" the younger Stella said with a laugh. "As far as I can remember, my everyday life was on that show. But I never even felt like I was working, it was just so fun for me."
For Maisy, being a part of the Nashville cast was a gift in that she was a part of a show not afraid to push the envelope and show how locals welcome and celebrate love and acceptance no matter who their neighbors are.
"I was very proud to be a part of something that touches on subjects that are controversial, I guess you could say. Especially in the South ... to have a show about Nashville, which is wonderful but still is a part of the South, and have an openly gay character on a show, amongst other things. That's the thing that makes me feel most accomplished."
Although gifted with immeasurable talent as a singer, instrumentalist and songwriter just like her sister (the Stella family genes are strong, y'all,) Maisy revealed some exciting, albeit slightly surprising news during our chat.
"I'm going to stick to acting," she said.
As she continues to spread her wings, there's no doubt she will soar. But don't worry, as her sister works hard on her debut album, Maisy will be right there, holding her hand and cheering her on just as Lennon has always done for her all these years.
"Lennon is my favorite person in the entire world, I live for her, I love her so much. She is my best friend," Maisy said. "We have never gone through any stage of jealousy or competition or anything like that at all. Words cannot describe how excited I am that she's doing music."
We can't wait to watch the next chapter unfold for these two loving sisters. Catch them on tonight's (July 26) finale of Nashville, 9 p.m. ET on CMT.