Inside Willie Nelson's 'Last Man Standing'
Exclusive: Longtime Producer and Collaborator Buddy Cannon Talks Texting with Nelson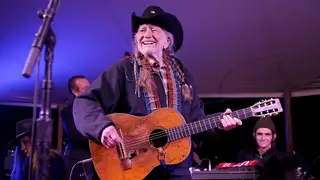 There is no telling how many celebrities and world leaders have been on Willie Nelson's tour bus. His longtime collaborator and producer Buddy Cannon has met several public figures while onboard Nelson's home on the road, including former president Jimmy Carter, Woody Harrelson, Matthew McConaughey and James Caan.
"Every conceivable celebrity that you can think of, they all know Willie and want to be around him," Cannon tells CMT.com. "He has an unbelievably strong magnetism. I'm sure everybody would like to hang out with him."
Willie Nelson and Buddy Cannon
But the first time Cannon met Nelson, 85, it wasn't onboard a Honeysuckle Rose (the official name for Nelson's buses). It was in a room big enough for approximately five standing people backstage in Amarillo, Texas way back when Cannon was a rising singer-songwriter for Mel Tillis.
"Mel had bought a radio station in Amarillo, and he planned a listener appreciation show and asked Willie to do it," Cannon recalls. "Mel asked me and another songwriter, Buzz Rabin, if I wanted to ride down there, go to the show and hang out.
"Buzz had a couple of joints, and he said, 'You want to meet Willie?' And I said, 'Heck yeah.'" When Rabin procured Nelson from his bus, they scavenged the venue's backstage area for a discreet place to smoke.
"So, me, Buzz and Willie are walking down the corridor of this coliseum in Amarillo pulling on doors as we're passing," Cannon says. "And the first one we come to that's unlocked is a broom closet. It was about big enough for four or five people to stand in I guess. That was my first actual contact with Willie. I really didn't get to know him until much later. It's a funny first introduction."
When fans listen to Cannon and Nelson's newest album, Last Man Standing, they're hearing their text messages. Texting lyrics to one another is a practice they've had since Nelson, 85, texted Cannon the idea for their 2012 hit, "Roll Me Up and Smoke Me When I Die."
"It's crazy I know," Cannon admits. "If he sends me something, and I think there might be a word or a line that I think fits better, I'll change that and write another verse or something and send it back to him. And we never talk about it."
When deciding what to title the new album, "Last Man Standing" was an obvious choice because it best describes Nelson at this stage in his life.
"A lot of his people who he came up through the business with have gone on," Cannon says, "and we've lost a bunch of them within the last two or three years; people he's been close to a long time. And he's really almost the last one of them; maybe him, Bobby Bare and Bill Anderson. There are a few guys who are still around who saw the beginning of where we are now."
With a sound that embodies '50s rock 'n' roll by Chuck Berry, the songs on Last Man Standing are all captivating performances in the raw. Credited on the album are Nelson's famous acoustic, Trigger, his longtime harmonica player Mickey Raphael and Alison Krauss (fiddle); plus an all-star lineup of studio musicians including Jim "Moose" Brown (keys), Bobby Terry (guitar), James Mitchell (guitar), Fred Eltringham (drums and percussion), Kevin "Swine" Grantt (upright bass), Eddie Bayers (drums), Tommy White (steel guitar), Mike Johnson (steel guitar) and Lonnie Wilson (steel guitar).
"I think I finally got the personnel in the band locked where I want them for this kind of a Willie record," Cannon says. "I try not to cut songs too many times. If I can get it on the first take, I'm a happy guy. I don't know why this one sounds so rocking. It's just different songs with the lyrics, the feel and the rhythm I guess."
Last Man Standing explores themes of friendship ("Me and You"), Biblical allusion ("Heaven Is Closed," "Don't Tell Noah"), mortality ("Last Man Standing," "Bad Breath"), the afterlife ("I'll Try to Do Better Next Time"), partying ("Ready to Roar") and heartache ("She Made My Day," "Very Far to Crawl").
But it's the hopeful "Something You Get Through" that is one of Cannon's favorite songs he's ever written. It was inspired by a vivid memory on Nelson's bus three years ago in Austin, Texas. At the time, a woman came onboard that Cannon didn't recognize, but he could tell she and Nelson were old friends.
"I could just tell by the way Willie greeted her," Cannon recalls, "and he had her sit down by him, and she was very emotional and tearful. She was talking about she was missing someone she had just lost.
"I don't know if it was a child or a husband, but Willie was listening to her and holding her hand on the table, and she said, 'I just don't know how I'm going to get over this.' And Willie said, 'It's not something you get over, but it's something you'll get through.' It just stuck in my brain, and I think I have thought that line every day since that day."
Nelson is on tour through November. His Outlaw Music Fest returns May 25 in Raleigh, N.C. with Sturgill Simpson, Alison Krauss and Delta Rae.