Miranda Lambert Reveals 'The Marfa Tapes' Collaborative Album With Jon Randall, Jack Ingram
'The Marfa Tapes' releases May 7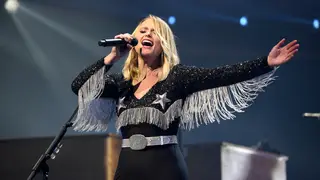 Miranda Lambert recently teamed up with Elle King for the deliciously defiant new song "Drunk (And I Don't Wanna Go Home)" (find out more about the hilarious video here), but it seems she's got more musical arsenal at the ready.
Texas natives Lambert, Jon Randall and Jack Ingram have been a formidable trio in collaborating on some of Lambert's sterling previous works, including "Tequila Does" from Lambert's recent album Wildcard, as well as "Tin Man," which earned an ACM win for Song of the Year in 2018.
On Friday (March 5), she announced a collaborative album, The Marfa Tapes, set for release May 7 via Vanner Records/RCA Nashville. Randall, Lambert and Ingram wrote and recorded the songs in tiny Marfa, Texas, which has long been a songwriting haven for the trio. They returned to Marfa for five days in November to record songs they had previously written, with only a few microphones and an acoustic guitar. They recorded outdoors, around a campfire, and throughout the project's songs, sounds of nature are woven in, adding another ambient voice to the album.
The album's first video, for "In His Arms," released today.
"I'll never forget pulling into Marfa that first night at 4am," said Lambert. "The stars were like nothing I'd ever seen before, just this endless blanket hanging so low you could reach up and touch them. I immediately understood why this place was so special."
"There's no TV, no radio, nothing to do out there but pour a cocktail, sit around the campfire, and talk," added Randall. "Eventually, that just inevitably leads to songs. There's no pressure to write, but most of the time, the three of us can't seem to help ourselves."
"There's something singular that happens in that moment of collaboration and creation, something you can never really recreate in the studio," said Ingram. "Our hope with this album was to share a little bit of that magic with people."
03) The Wind's Just Gonna Blow
04) Am I Right Or Amarillo
10) We'll Always Have The Blues
12) Two-Step Down To Texas
15) Amazing Grace (West Texas)