Maren Morris And Ryan Hurd Split
Maren Morris filed for divorce from Ryan Hurd earlier this month.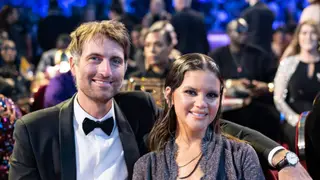 Maren Morris and Ryan Hurd are getting divorced after five years of marriage, according to US Weekly.
The celebrity-driven magazine reported the publication obtained "docs" and that Morris filed for divorce on October 2. She cited irreconcilable differences as the reason for the dissolution and listed their date of separation as the same day. The documents state the couple had a prenuptial agreement.
The couple share 3-year-old son, Hayes Andrew Hurd. Morris and Hurd attended the US Open together in September. 
Morris and Hurd developed a friendship during a meeting to write songs and the friendship turned romantic a year later. They started dating about eight years ago. The couple were married in Nashville in March of 2018.
"Music has always been really intertwined in our love for each other," she told US.
Until recently, Morris gushed about how Hurd supported her – including through her bout with postpartum depression.
"I do check-ins all the time [with] therapy, which I've done for years, and my husband was a huge help diagnosing that too," Morris told People. "Sometimes it's just someone really close to you saying, 'Are you OK?' It's so simple, but it kind of snaps you out of whatever fog you're in that you think is normal but isn't."
Morris told People the pandemic brought her and Hurd closer because it was the most time they had spent together.
"I'm very proud of her," Hurd told People in 2020. "Maren is an incredible mother and partner, and our quiet little life at home has just made it incredibly difficult to leave and go to work. I'm really thankful for our little home bubble."
Morris said she and Hurd did a "pretty good job" of prioritizing their relationship.
The former couple collaborated on his 2021 hit "Chasing After You" and her 2022 song "I Can't Love You Anymore."
Morris' liberal stance has made her somewhat of a lightning rod of controversy in country music. She butted heads with Jason and Brittany Aldean over their comments on trans kids. Hurd backed her up then – and did again recently when she said she was leaving country music.
"She deserves to be celebrated, not just tolerated," Hurd said on social media in September. "I love the response from people who don't just love these two songs; they needed them. … Most people would just shut up and keep collecting the paycheck because the wave of vitriol is real, and it's hard."
He continued that Morris "deserves a little sunshine for the burden she has carried for every artist and fan that feels the same way."
"I can't wait to make music that follows the same path, whatever that is," he wrote. "Love you, MM. Keep on keeping' on."
Morris released her EP "The Bridge" in September.