Miranda Lambert Talks Meatloaf, Her Tribe And How You Can't Make Old Friends
Miranda Lambert's cookbook, "Y'ALL EAT YET?" is at No. 3 on the New York Times best sellers list.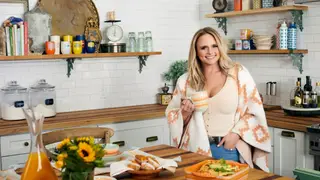 "Isn't she pretty?" Miranda Lambert says as she leans over the coffee table and touches the gleaming cover of her new hardback cookbook "Y'ALL EAT YET?"
The book boasts a photo of Lambert smiling lightly on the cover. But she insists it isn't a "me" cookbook but a "we" cookbook. None of the recipes are hers but come from her family and friends. And some of the happiest times in her life happen when they're all in the kitchen cooking together. The book's early pages introduce the women in Lambert's kitchen tribe -- her mother, Beverly Lambert, and family friends Denise Watson and Vicki Plaxco, Heidi Prather. And, of course, the queen of their group, Lambert's grandmother who passed away several years ago.
"All these recipes like have just been all of ours for so long," she said. "None of them are mine. I stole them all from them. But that's why I was like, 'This is not a I cookbook. This is a we all cookbook.'"
"Y'ALL EAT YET? Welcome to the Pretty B*tchin' Kitchen" is available now and includes recipes for her mom's meatloaf that they call "the loaf," her mom's chicken salad complete with cheese, Nonny's tuna salad and banana pudding, Heidi's spicy crackers, Lambert's dad's magic green beans, Vicki's deviled eggs and more.
The food is supposed to be easy so at-home cooks can spend more time with their family than stirring pots.
"It doesn't matter what you're having; it matters who you're having it with," said Lambert's mom, Bev, on Talk Shop Live. "The setting is more important than the products. It could be cheese and crackers, but if we're having cheese and crackers with Heidi, Vicki and Denise, we're good."
The origin for "Y'ALL EAT YET? Welcome to the Pretty B*tchin' Kitchen" goes back to being on lockdown during the pandemic. The women couldn't be together, so they had weekly Zoom gatherings where they'd play their version of a popular cooking show. They let their husbands choose an ingredient each week, and they had to make recipes that included all five ingredients. No Googling was allowed.
"It was just a way to entertain ourselves, and we called it our 'Chopped,' cook-off," Lambert said. "I was like, 'This would be fun if we put some of these recipes in the cookbook.' The enchilada bake that Heidi has in here is from that experiment. Then it just kind of grew into a bigger idea of like, 'I haven't ever had a book. I'm at that point in my career; maybe I should.'"
The idea began as a personal cookbook for their small group that she planned to make on Shutterfly. While Lambert's husband, Brendan, does most of the cooking at her house, she falls back on these recipes when she's with her friends. The singer thought it would be convenient to have all of her favorite recipes in one place so she didn't always have to text her Bitchin' Kitchen group to remind her what goes in the deviled eggs.
Her manager Marion Kraft had a more grandiose idea for the project. It quickly grew from a quaint collection of recipes to the sleek-yet-homey round-up of deeply personal stories interwoven with the friends and food closest to Lambert's heart.
"It's a lot of stories about my journey to get here and the support group, which is these women that sort of held me up from when I was a child," Lambert said. "The first time I ever wrote one of my first was at Vicki and Heidi's house. This is just about our times together on our glamping trips. A lot of those snacks were born on those camping trips. I just hope this book reminds people to spend quality time. You can't make old friends. You can't make old memories. I think having that core group of gal pals is so important."
Lambert's fans think so, too. "Y'ALL EAT YET? Welcome to the Pretty B*tchin' Kitchen" made the New York Times best sellers list one week after its release. Lambert posted a teary-eyed video on social media thanking people for their support – and celebrating her Nonny, who is featured heavily in the book. Nearly the entire first chapter of recipes is dedicated to Lambert's grandmother.
"I can't actually believe that," Lambert said of the book's No. 3 spot. "I'm so grateful. It's for my Nonny in Heaven. She's partying tonight. I know it. I'm just beside myself that people would want to hear our stories and join our sisterhood."
In the book, Lambert described her grandmother, Wanda Louise Bass Coker, as "just like a movie star." She wore cat eyeliner, had huge brown eyes, a beehive hairstyle, and was voted most beautiful in her high school for her junior and senior years. Bev Lambert sees a lot of her mom in her daughter.
"Nonny taught Miranda a lot about everything," Bev said. "Nonny was quite the teacher. If I had to choose one thing that Nonny brought to the table, it was the joy of living. I never saw her in a bad mood in my whole life. I saw her feisty. I saw her mad. But I never saw her in a bad mood."
Nonny's tuna salad, black-eyed peas, banana pudding and Thanksgiving dressing are all in Lambert's book.
However, it might be Bev's meatloaf that takes the cake. The main dish includes onions, bell peppers, hamburger, sausage, crackers, mustard and more. Bev even uses the drippings to make gravy.
"The meatloaf will always be my favorite recipe," Bev said. "It's the birthday dinner. Ask anyone who knows me. You're coming over on Sunday, what do you want? Nobody would ever not say the meatloaf. I would bring it to the king."
Lambert agrees. Her mom's meatloaf is her go-to recipe, too.
"I usually make that if I'm cooking for a group because it's great, and it usually works," Lambert said. "I'm also very much about the dips and the cheeseboard. Keep it simple. This book is permission to just let go of everything being perfect because it wastes too much time you could be spending laughing and toasting to great things. My mom's one that used the good China for no reason, and I love that about her. I've taken that on in my adult life."
Bev said the recipes are so basic that for many of them, people probably wouldn't even need to go to the store for ingredients. They probably already have them in their pantry.
"Making this book has been a whole lot of fun, but it's really, honestly, what we'd do anyway, whether we were making a book or not," Bev said. "We'd be in the kitchen making recipes and talking about it because it's what we've always done."
In addition to the recipes, Lambert hopes readers also walk away with some laughs. She incorporated her favorite funny stories along with some sad moments that she thinks people will relate to.
"I think people are going to find that their same stories are in this book," Lambert said. "It's just like songs to me. It's like I just sing about what all of us are going through, and I just am lucky to have a platform to do so. I think this book will make people want to go hug their tribe, their gals, their people, men, or whatever their circle is. I think this book will remind you how lucky you are to have old friends and old memories together and to keep making more because you never know what's around the corner."