Brooke Eden, Sheena Brook Celebrate Inclusivity With First LGBTQ Event at Island Hopper
Brooke Eden: "You pray for this time in your life. You pray that it happens, but you know that it might not."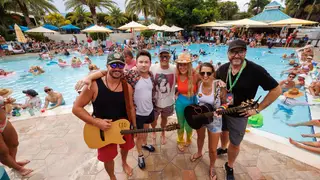 Country singer Brooke Eden joined singer songwriter Sheena Brook, along with Shane Stevens and Tyler Bellinger for the first LGBTQ songwriters round in the seven-year history of Island Hopper Songwriter Fest.
The 10-day music festival is divided among three locations in Southwest Florida — Captiva Island, downtown Fort Myers and Fort Myers Beach — and features more than 100 singer/songwriters Sept. 16-25.
This year's festival lineup includes Eden, Kristian Bush, Billy Dean, Danny Myrick, Bobby Tomberlin, Rascal Flatts' Gary LeVox and more.
"First of all, just anything pride related, I always want to be a part of it," Eden said about the poolside round. "It's just so cool that there's even a conversation of having a pride round at BMI songwriters event. Just an opportunity to be a part of representing the LGBTQ community in Nashville and abroad, it was just so cool."
Sheena has long-hosted an all-female event at the festival and this year she wanted to broaden the range of acceptance and diversity - especially in conservative-leaning Florida.
"Florida is a diverse place if you look," she said. "They're all these talented people. I looked at the list this year, and I said, 'Man, I'm so proud of the VCB and BMI for this list because there is so many different types of people, different types of artists, people from different backgrounds, color and sexual orientation."
After Sheena understood the breadth of songwriters and artists attending the festival, she asked BMI for permission to highlight the LGBTQ artists to make them feel welcome.
"There was so many gay people," Sheena said. " I had to choose those four people, and I really tried to curate who I thought would just sing so well next to each other. The truth is everyone loved us. I had so many people come up to me and say, 'Oh my God, I loved your show. I'm not gay, but that authenticity really resonated with me.' That's the whole point of it."
The warm welcome shows Eden how far country music has come since she signed her record deal. She played her song "Her Choice," which she wrote at the beginning of her career when she was told she could be in a same-sex relationship or have a career. She couldn't do both.
"It was really cool because I got to sing it, but also all the other songwriters that were in that round with me, ended up singing it with me and harmonizing with me," she said. "That was a really cool moment."
Eden said she never thought she'd be playing a BMI Pride round in Florida. But when she did, all she felt was love during the show, which was at Tween Waters Island Resort and Spa on Captiva Island.
"Anything Pride related, I always want to be a part of it," she said. "You pray for this time in your life. You pray that it happens, but you know that it might not."