Kylie Morgan Teases Unreleased Father-Daughter Wedding Song And New EP "Songs To Say I Do"
Kylie Morgan and fiancé Jay Allen plan to host a benefit concert to help victims of Hurricane Ian.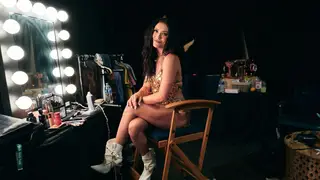 Kylie Morgan and fiancé Jay Allen had big plans to escape to the sunshine state to tie the knot, but Hurricane Ian forced the country couple to postpone their destination wedding in Fort Myers, FL. 
Despite the unfortunate news, the 27-year-old vocalist remains in high spirits and willing to celebrate love. The fast-rising artist known for her viral hit "Bridesmaids" took to social media Wednesday (Oct. 5) afternoon to tease a father-daughter dance song titled "Good Hands." 
Morgan declared that she was going to surprise her dad with the unreleased song at her seaside ceremony. The songstress confessed that the heartwarming melody is her "favorite song" she has ever written. 
"No, he ain't perfect, but hell who is? | There ain't nothin that's broken that he couldn't fix | He taught me what to fight for and when to give a damn | Yeah, I'm the proud daughter of a blue collar super man," sings Morgan displaying her angelic vocals. "I'm in good hands | When he's holding onto mine | I know who I am | When I look in his eyes| And he only sees the best in me even when it's hard to find | He's a good man | I'm in good hands." 
Morgan explained that she penned the tribute track alongside critically acclaimed songwriter-producer Ben Johnson and Emily Shackelton. The TikTok sensation declared that the writing session encouraged her to pick up the phone and reach out to her father. 
"I've never been more proud of a song that I've written. The day @theonlybenjohnson2 @emilyshackelton and I wrote it, I listened to it in my car and cried. I immediately wanted to hug my daddy," she wrote in the caption. "I hope you hear this & call you dad. I know, I did or if you can't, send him up a prayer or maybe someone else that has been a fatherly figure. I can't wait for you all to hear where this song goes after the first chorus." 
In less than 24 hours, the sentimental single received a positive fan reaction. The preview raked in 42.4K likes and 400.9K views on TikTok alone. Eager listeners ran to the comments to encourage the breakout star to release the song sooner than later. 
"I love my dad soo much!! These words hit right in the feels in the best way possible," gushed a follower. "Crying 😭 😭 This is so beautiful," said singer-songwriter Grace Leer. "I need to know when the full song is coming out!!" added another. 
Morgan nonchalantly confirmed that "Good Hands" will arrive on Oct. 14 and will be included on her forthcoming "Songs To Say I Do" collection. The EP is expected to have five tracks – "Fireworks," "Always Been You," "That's My Man," "Good Hands," and her chart-topping hit "Bridesmaids." 
Morgan and the current "The Voice" contestant are planning a benefit concert in Fort Myers to help individuals struggle from the horrific repercussions of the natural disaster. The tropical location is more than a luxury wedding destination, but is the home to many of their loved ones. 
"This beach is truly our 'happy place,' and to see it like this is the most heartbreaking thing," the singer wrote on social media. "These are homes to our friends who have become family, their businesses, our favorite restaurants, & the streets we walked down every day when visiting. We are obviously sad we won't be getting to start our forever here this weekend. But honestly, we are only focused on our people FMB and their livelihood," she previously mentioned. 
The tropical storm turned Category 4 hurricane made landfall on Sept. 28, causing numerous fatalities and flooding throughout the city. The optimistic lovebirds were set to say "I do" on Saturday, Oct. 1, but canceled in advance to protect their guests. 
Morgan revealed that more information regarding the benefit concert will be "coming soon." 
"Details of a benefit concert to help rebuild our home away from home will be coming soon," she stressed. "Until then, just please pray." 
Fans looking to provide a helping hand, can donate to their American Disaster Relief fund, here.