Alabama Guitarist Jeff Cook Dies 10 Years After Parkinson's Disease Diagnosis
Jeff Cook was a founding member of Country Music Hall of Fame group Alabama.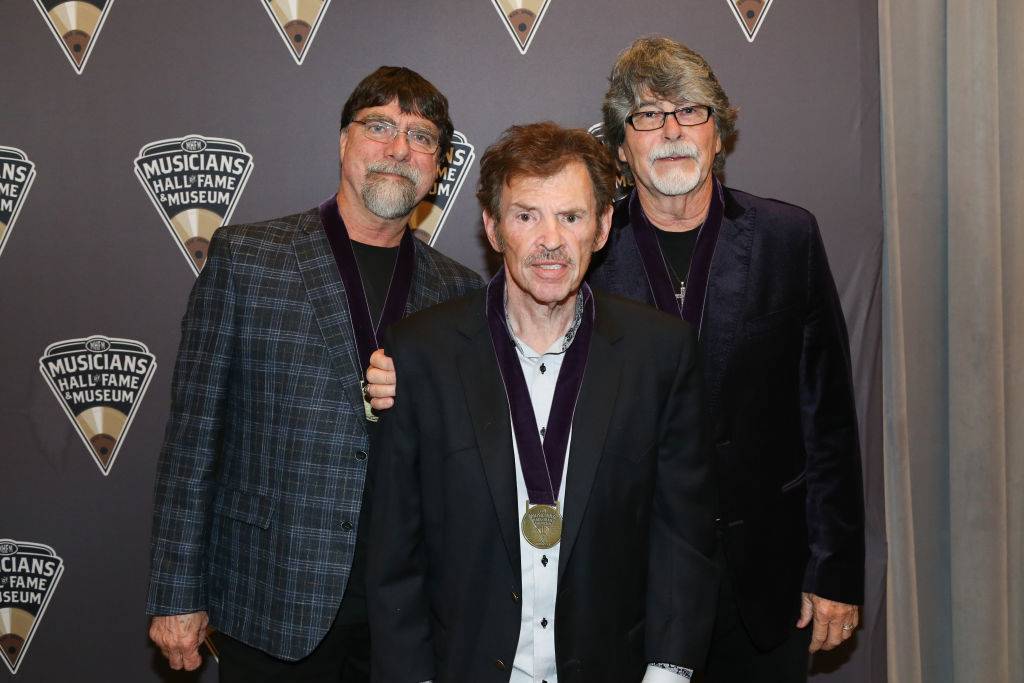 Famed Alabama guitarist and fiddle player Jeff Cook lost his battle with Parkinson's Disease on Monday, November 7, and passed away peacefully at his beach house in Destin, Florida. He was 73 years old.
Cook was a founding member of Alabama, country music's first band, and was inducted into the Country Music Hall of Fame in 2005. The group is known for hit songs, including "Mountain Music," "Roll On," "Dixieland Delight" and "If You're Gonna Play In Texas (You Gotta Have A Fiddle In The Band)," for which Cook played the defining riffs on fiddle.
Alabama won two GRAMMY Awards, nine CMA Awards, including three back-to-back entertainer of the year wins, and was named the Academy of Country Music's Artist of the Decade before Cook was diagnosed with Parkinson's disease in 2012. He revealed his diagnosis in 2017.
"This disease robs you of your coordination, your balance, and causes tremors," Cook said in a statement. "For me, this has made it extremely frustrating to try and play guitar, fiddle or sing. I've tried not to burden anyone with the details of my condition because I do not want the music to stop or the party to end, and that won't change, no matter what. Let me say, I'm not calling it quits, but sometimes our bodies dictate what we have to do, and mine is telling me it's time to take a break and heal."
Following the announcement, Cook went on to play as many shows with Alabama as the condition would allow. It was essential to Cook that the band continued without him.
"He wants us to go on," Owen told The Tennessean in 2017. "We want the music to go on. I'm going to be very honest. I don't know if I have the fire. The only way I do is knowing that Jeff is totally, 'Go get it.'
"Go get it," Cook added, "with witnesses."
Since Alabama debuted nationally in 1980, the group has sold more than 75 million albums and singles, charted 43 No. 1 songs, and received a star on the Hollywood Walk of Fame.
Jeffrey Alan Cook was born in Fort Payne, Alabama, on August 27, 1949. He started playing lead guitar and keyboards in bands when he was 13 years old. He got a broadcast license three days after his 14th birthday and went to work as a disc jockey at a local radio station. It was the beginning of another professional passion as Cook went on to own multiple radio and television stations. Cook graduated from Fort Payne High School and later received a degree in Electronic Technology from Gadsden State Community College in Gadsden, Alabama. He was named an Outstanding Alumni by the American Association of Community Colleges.
Cook constructed Cook Sound Studios, based in Fort Payne, as the fruition of another of his lifelong dreams. Through the studio, Cook was able to other musicians share their music.
However, Alabama also consumed much of his time and passion. Cook founded the band with his cousins Teddy Gentry and Randy Owen more than five decades ago. The men left the Alabama cotton farms to spend the summer playing The Bowery in Myrtle Beach, South Carolina. The men spent six years living out of tip jars before Joe Galante discovered them and helped them land their recording contract with RCA Nashville.  
"At any show when Jeff broke out that fiddle, people were dancing all over the place," former Sony Music Nashville chairman Joe Galante told The Tennessean. "People just jumped up. While he wasn't front and center all the time, his contribution really made a difference when you listen for the hook. Those are hallmarks of records that will last well beyond our lifetimes."
Cook married former Delta flight attendant, Lisa Williams on June 9, 1995. While he was healthy, the Cooks lived in their castle-like home on top of Lookout Mountain overlooking Fort Payne, Alabama.
Cook is survived by his wife of 27 years, Lisa Cook. Memorial services will be announced soon.