Watch: Scotty McCreery Ignites "CMT Campfire Sessions" Tonight
The third season of "CMT Campfire Sessions" includes Charley Crockett, Elle King, Jessie James Decker, Lainey Wilson, and Warren Zeiders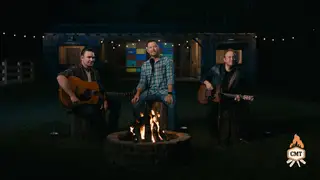 Scotty McCreery is kicking off the third season of CMT Digital's "CMT Campfire Sessions" tonight with a show complete with stripped-back versions of his biggest hits, including "Damn Strait," "Five More Minutes," "You Time," and current single "It Matters To Her." McCreery performs the singalong favorites fireside with two members of his band.
New episodes will debut each week on CMT's YouTube and Facebook channels.
Other artists who appear on the third season of "CMT Campfire Sessions" are Charley Crockett, Elle King, Jessie James Decker, Lainey Wilson, and Warren Zeiders, who perform under the night skies. This is Wilson's second appearance on "CMT Campfire" and includes a unique tie-in to her character on Paramount Network's "Yellowstone."
"We are thrilled to welcome this group of artists as part of our third season of CMT Campfire Sessions on digital," said Melissa Goldberg, VP, Digital & Social Media, CMT. "Not only do they represent the breadth of the genre, but their talent of storytelling through song, especially in this fireside format, creates a unique experience for the fans that is amazing to witness on screen."
Goldberg said that while the fire is still lit during Campfire Sessions, other changes were made to reflect each artist's unique vibe.
"That translated to everything from pink muscle cars to bohemian backyards," she said. "These stylistic enhancements serve to further connect the audience with their favorite stars while evolving the overall look and feel of the series."
 Tuesday, Oct. 18 – Scotty McCreery
Tuesday, Oct. 25 – Charley Crockett
Tuesday, Nov. 1 – Jessie James Decker
Monday, Nov. 7 – Lainey Wilson
Tuesday, Nov. 15 – Elle King
Tuesday, Nov. 22 – Warren Zeiders
"CMT Campfire Sessions" is a reimagining of the traditional campfire singalong, swapping songs and stories that nod to the nostalgia and intimacy of storytelling synonymous with country music. Fans can view past "CMT Campfire Sessions" episodes via CMT's Facebook and YouTube channels. For more information, visit CMT.com, join the conversation using #CMTCampfireSessions and follow @CMT on Instagram, Twitter and TikTok.