Pics: Ashley McBryde Shares Backstage Moments Before Opry Induction, Surprises Crowd With Eric Church
Ashley McBryde cried: "Can I please at least get onto the Opry stage without being destroyed? It's being filmed, and I'd like to not look like trash."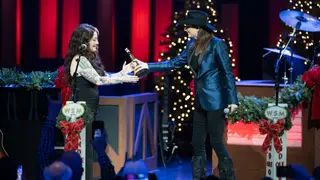 Elaborate flower arrangements lined the vanity in Ashley McBryde's dressing room backstage at the Grand Ole Opry House Saturday night. The dozens of roses, lilies and hydrangeas with cards tucked neatly inside the vases made the room smell like a flower shop. About an hour before she went on stage for her induction, McBryde had yet to open any cards. She knew she would cry again and was trying to preserve her make-up. She also revealed more flowers were in the other room, including her favorite – a bouquet inside a vase shaped like a giant purple dinosaur.
Her hair in flowing waves and wearing a fitted black outfit that showed off her curves, McBryde looked the part of a beloved country singer about to ascend to the next career milestone. Her wide, watering eyes shared the story of a young Arkansas girl who was once told her dreams were ridiculous but was about to achieve one of country music's top honors – induction into The Grand Ole Opry.
She's played the famous stage 21 times – and received 21 standing ovations - but Saturday night was the most important. Her parents and siblings were in the audience for her induction and 22nd performance. Terri Clark was set to induct her. And Wynonna wanted to walk her to the stage. She knew the short journey from her room to the spotlight would be emotional.
"Can I please at least get onto the Opry stage without being destroyed?" she laughed. "It's being filmed, and I'd like to not look like trash."
The last 12 months have been packed with peaks for McBryde. Her duet with Carly Pearce, "Never Wanted To Be That Girl," topped country radio charts and earned the women trophies from the ACM and CMA awards for Musical Event of the Year. McBryde also won the 2022 CMA International Artist Achievement Award for her growth and promoting the genre outside of the United States. Her new album – a concept collection called Ashley McBryde Presents: Lindeville – is a collaboration with Brothers Osborne, Brandy Clark, Pillbox Patti, Caylee Hammack and Aaron Raitiere. The authentically quirky introduction to the fictional town and its irresistible residents earned McBryde her third consecutive GRAMMY nomination for Best Country Album. Her duet with Pearce received a nod for Best Country Duo/Group Performance, making McBryde a six-time GRAMMY nominee. And as much as she wants to win a Grammy, the golden trophy doesn't compare to lifelong belonging to country music's most prestigious family of artists.
"This is the being on Mount Rushmore," she said of her Opry induction. "This is being in a Hollywood film. This is the best thing that can happen to you. I've said before that a Grammy is the best thing that can happen to you, but this stays with you after you're gone. After you're gone, they will still refer to you as Opry member."
The night is a far cry from McBryde's first experience at the Grand Ole Opry as a child. When she was 12 years old, her mother brought her to Nashville for a bluegrass conference. The family had two friends who worked on the Opry property who were also in a band called the Cluster Pluckers. They invited McBryde to come for a brief tour of the Opry House. She remembers getting a Tootsie Pop and standing on stage to see the famous circle.
"At 12 years old, I am not old enough to have absorbed all the history and everything," she said. "He gave me a guitar. He said, 'Would you like to play a song?' Of course, I wanna play a song."
The singer remembers someone had written on the back of the guitar in Whiteout pen, "Please don't steal me. I'm cheap."
"I remember even at 12 just giggling at that because the chances of that guitar actually being cheap are pretty slim," she said.
McBryde sang "Peach Pickin' Time in Georgia."
"I'm not a good yodeler, and that song requires that you are," she said. "It was like a movie that just happened about this kid, and I was in it."
Before she walked on stage, McBryde said she knew she was supposed to be singing country music or she wouldn't still be doing it.
"I understand the assignment," she said.
McBryde walked on stage carrying her guitar at 8:30 p.m., and the wild applause from the sometimes-polite Opry audience rivaled anything staff remember hearing at previous Opry inductions. She sang "Made for This" and Clark joined her for her breakout hit "Girl Goin' Nowhere," which she sang when Clark saw her Grand Ole Opry debut June 16, 2017.
Clark recounted how McBryde kissed the Opry circle on that debut evening.
"Right then we all knew you belonged here," Clark said. "The Opry is a family and my sister, you have earned your spot at the table."
McBryde talked about what the induction meant to her and wondered aloud how "this is real life?" She talked about how Wynonna surprised her before the show and how the Opry is more than the famous venues that house it.
"This moment is the biggest of my life," she said. "And if it's your first time to be at the Opry, this is what it feels like every time you are here. It looks like it's made of brick and mortar, but it is pure, pure love. That is what you are experiencing. Thank you. I know what this means. I know what my responsibilities are, and I take this very seriously. And God Bless country music."
Following McBryde's official induction, she surprised the audience when she invited Eric Church to sing with her on stage. The crowd cheered again as Church walked out carrying his guitar and joined the Opry's newest member for a duet on "Bible and a .44."
"Ashley McBryde is one of the good ones," Church said. "She's a rare one of one. Country music is lucky to have her."
Her performance finished, McBryde's set ended the same way it has every time she's played the Opry – with a standing ovation.