Hailey Whitters Talks Stagecoach, Eric Church And Making It After "15 Years In A 10-Year Town"
Hailey Whitters: "I remember everything I ever wanted to do – and I'm doing it."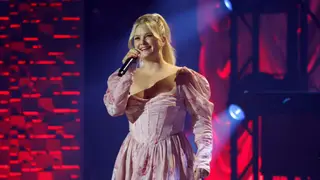 Hailey Whitters said 2024 is her "lucky year" after being invited to play the popular country music festival Stagecoach, set for Friday, April 26 - Sunday, April 28, 2024, at Empire Polo Club in Indio, CA.
"It's a huge deal," Whitters said, explaining she's playing the same day as headliner Eric Church. "Just getting to be on the lineup is really exciting for me. I think it's going to be a big day, and I'm really excited to be out there."
Whitters' 2023 hasn't been anything to dismiss. She is nominated for New Artist Of The Year at the 57th CMA Awards in November – her first nomination at the famed awards show. She won New Female Artist Of The Year at this year's ACM Awards. Her debut radio single, "Everything She Ain't," was recently certified platinum. She released her new six-song EP, "I'm In Love," on July 28.
"It's been amazing," she said of the last 12 months, remembering what it was like to open for Eric Church and Shania Twain. In a few weeks, Whitters is going on tour with Luke Bryan. "Singing with Eric Church is probably something that I never thought would ever happen. Shania is the one who planted the seed for me. I think I have old video footage of me in my underwear just belting out 'Any Man of Mine,' probably seven years old. It was incredibly surreal to get to be opening shows for the one who set me on this path in the first place. It has been a pretty great year. Nothing to complain about over here."
While Whitters' career is on fire now, it didn't happen overnight. The Grammy-nominated singer/songwriter said she was waiting tables on the brink of giving up not that long ago.
"I'm 15 years into a 10-year town," Whitters said. "I have to pinch myself all the time."
Whitters signed with hitmaker Nicolle Galyon's Songs & Daughters record label. Both women are from the Midwest, and as Galyon's Kansas roots are important to her, Whitters often thinks about growing up in the Iowa cornfields.
"I remember everything I ever wanted to do – and I'm doing it," she said. "I think it's really easy when you're just moving this fast, to be like, 'Okay, what's next? What's next? What's next?' I just have to stop myself and be like, 'Don't forget about that girl. You are doing exactly what she wanted to do, and you've done it.'"
The realization makes her proud because it wasn't an easy 15 years of work to get here.
"There are moments where you still have doubt and you're like, 'I don't know,'" she said. "'Am I doing it? What else should I be doing?' I think it's just important to remember you've accomplished so many goals, and you're doing everything that you said you were going to do. So be proud of that."
Post Malone (performing a special set of country covers)
STAGECOACH is produced by Goldenvoice.