Reba McEntire Releases Chilling "Big Sky: Deadly Trails" Trailer Featuring Patsy Cline's Voice
Reba McEntire and Rex Linn serve as a shady couple in the upcoming season of ABC's "Big Sky" – check out the chill-provoking trailer.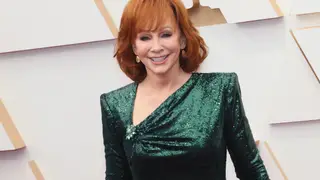 The three-time Grammy winner and Golden Globe-nominated actress took to social media  Wednesday (Aug. 31) to reveal another bone-chilling trailer for the upcoming series and to give a sneak peek of her mysterious character. 
"Some trails are not meant to be followed. Are you ready? #BigSky: Deadly Trails premieres September 21 on ABC and stream on Hulu. @BigSkyABC," reads the caption.
The trailer begins with an adventurous backpacker starting his journey through the dangerous mountains of Big Sky, Montana. As the hiker navigates the dusty paths, he nonchalantly comes across an old-school tape recorder playing Patsy Cline's classic country hit, "Walkin' After Midnight." Once the curious explorer presses pause, an unknown subject suddenly appears. The trailer leaves crime junkies on a cliffhanger as it cuts to the police searching for his body. 
"Sometimes people just wanna disappear," said Linn's character. "But then there's people who make them disappear," added Sheriff Beau Arlen played by critically acclaimed actor Jensen Ackles. 
 After the Sheriff's speculations, McEntire's overall demeanor changes. The rest of the trailer displays other finger-biting scenes, such as campers crying for help, someone burying a body at midnight, and a man falling off a cliff. 
"Sometimes, predators run their prey right off the cliff," Linn added while participating in the search party as a decoy. 
It is unknown if McEntire [Sunny Brick] and Linn [Buck Barnes] are the murders of the season. From their suspicious and shady behavior, many believe they are behind each crime connected to their luxury company, Sunny Day Excursions. 
Towards the end of the trailer, Sunny tosses the backpacker's missing person flyer into a blazing fire, solidifying the theories. 
The multi-platinum artist announced that she would join David E. Kelley's action-packed drama as a series regular in early May. McEntire's role is described as a "successful" backcountry outfitter with a secret list of missing customers. 
McEntire and Linn join regular cast members Kylie Bunbury [Cassie Dewell], Katheryn Winnick [Jenny Hoyt], Ackles [Sheriff Beau Arlen], and Jamie-Lynn Sigler [Tonya, a local waitress]. 
"We're having a blast. We're still in the middle of shooting. We were on set last night, and there was a full moon. It was a long night but so beautiful," McEntire told Deadline about working alongside her other half. "Wait until you see her in this," added Linn. 
Country music fans and TV enthusiasts will see McEntire's sneaky side on Sept. 21 on ABC.