Scotty McCreery Talks Fatherhood And What He's Most Looking Forward To: "Baby Is Coming Fast"
Scotty McCreery will release "Same Truck: The Deluxe Album" on Nov. 18, just weeks after welcoming his little boy.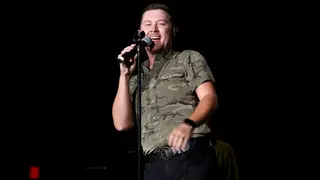 The happy couple will welcome their first child – a boy – this fall. The "Damn Strait" singer recently caught up with KIK FM 100.7  to discuss fatherhood and how they are preparing for their bundle of joy.
Over the summer, the platinum-selling artist declared that Gabi's due date was in early November. He told the outlet that the doctors threw them a curve ball, when a recent ultrasound implied that their son might arrive earlier than expected.
"Baby is coming fast, I tell you," McCreery noted. "It seems like just yesterday that Gabi showed me the pregnancy test, and she was like, 'We're having a kid,'" he recalled.
The baby boy coming at the end of October, left McCreery and his other half in scrambles. The singer-songwriter declared that they still have loose ends to tie up, including the nursery.
"We've got to build a nursery and get all this stuff ready," he shared.
Despite the tight schedule, McCreery is looking forward to becoming a father and sharing his passions with his little one.
"It's going to be the biggest blessing," the vocalist stressed. "I can't wait to teach this kid things. Get him on the ball field, play him some music, teach him guitar. We've already got a little music stand for him to play with. So yeah, we're pumped."
Although he has a long-running list of father-son activities, he shared that he's most excited to watch Gabi become a mother.
"I'm so excited to be a dad, but probably more so excited to see Gabi be a mom," McCreery pointed out. "She is going to absolutely crush it. Just how caring and thoughtful she is – she puts everybody's needs in front of her own. She's just going  to be the best mom," he added.
The chart-topping artist confirmed that they were expecting in late June on Instagram with a maternity photo, featuring baby cowboy boots and a sonogram. The hitmaker shared with PEOPLE that they "always knew" kids were in the future, but wanted to explore the world before starting a family.
"We've gotten to live a lot of life and do some cool things, so seems like now's a good time to settle down a little and expand the family," the 28-year-old explained.
Gabi and McCreery are high school sweethearts and tied the knot in 2018. Since becoming pregnant  – McCreery has been reading up about parenthood with his "New Dad's Playbook," which Gabi revealed on social media. As they eagerly wait for the special day, McCreery will be performing his radio single "It Matters To Her" and recent release "Nothin' Right" out on the road.
"We had more songs I loved ready for the original release of 'Same Truck' than we could put on that album, so I am pumped that Triple Tigers asked me to do a Deluxe Edition where I could add six more songs," he said in a statement. "We've also had a lot of requests for a vinyl version of 'Same Truck' over the last year, so I'm excited we can offer that option as well."
McCreery confessed that he's been playing the unreleased songs on tour.
"We're performing 'Nothin' Right' in the live shows right now, and it always gets a great response. Don't be surprised if a few more of the bonus tracks make their way into our concerts soon," teased the crooner.