Parker McCollum Talks Forthcoming Album And His "Creative Freedom"
Parker McCollum is slated to kick off RodeoHouston 2023 with an opening day performance.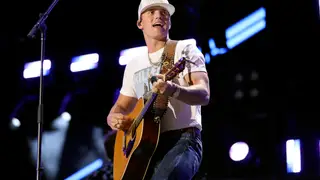 The fast-rising artist took to social media to announce that he's "officially done" writing his new album. McCollum has not revealed the title of the highly anticipated collection, but confirmed that it will arrive in 2023. 
"Sometime Next Year," he wrote alongside the 12-song tracklist. 
The breakout star crossed out the names of the songs on the long-running list, except "Stoned" and his latest release, "Handle On You." The Texas native brought the melancholy melody to critically acclaimed songwriter Monty Criswell. The mastermind behind George Strait's "I Saw God Today" came up with the boozy title inspired by Jack Daniel advertisements. 
The breakup song includes a captivating hook and displays McCollum's impressive way with words. The '90s-country-infused track that gives a friendly nod to Merle Haggard, serves as McCollum's first radio single from the unreleased project and gives fans a small taste of what to expect. 
The country crooner previously (Oct. 3) opened up about the creative process and how he is turning his life-long dream into a reality. 
"On a major label, with creative freedom. Writing the songs I want to write, recording the songs I want to record. That was my dream," he wrote on Twitter. "Where ever It goes from here idk, but at least I can say I stayed true to myself," he added. 
McCollum continued to thank his devoted community for the endless support, while  he picked his career off the ground. 
"Thank y'all for believing n me for so long!" he concluded. 
Since breaking into the industry, McCollum had the opportunity to make his RODEOHOUSTON debut and perform in front of a sold-out crowd. The world-renowned festival recently revealed that the McCollum would make his triumphant return to the legendary stage to kick off the star-studded affair in February. 
"Hey Houston, can't wait to join you at opening day for the 2023 Rodeo Houston on February 28," he said in a short clip. "Everyone looks forward to the upcoming rodeo season all year long, and we hope all rodeo fans will circle opening day on their 2023 calendars, as this will be a day you won't want to miss," added Houston Rodeo president and CEO Chris Boleman.