#CMTAOTY: The Glitter Glam Portrait Series
Women of Country Sparkle in Trilli's Hands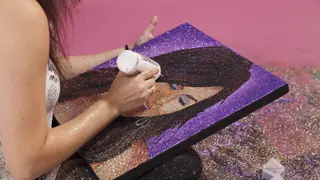 Singers and songwriters paint pictures with words. But Trilli? She does it with glitter.
What started as a childhood hobby -- she'd collect the Swarovski crystals that fell off dancers' dresses when she was at ballroom dance competitions with her family -- has turned into her shiny, shimmery and sparkly day job. "That was when I was exposed to glitter and glam, and that's what rooted my attraction to everything sparkly," Trilli told CMT.com.
In anticipation of the upcoming CMT Artists of the Year ceremony, CMT recently discovered Trilli on Instagram and commissioned her to create eight pieces of her signature glitter art to celebrate the night's honorees.
The Toronto-based artist told us that each portrait can take her anywhere from five to ten hours. It all begins with some kind of photo for inspiration, then she sketches the image onto a wood panel, and then she covers one section at a time with clear glue. After that comes the glittering. So much glittering.
But this isn't just run-of-the-mill hobby shop glitter. Trilli said her current inventory includes an array of about 100 different colors. Some she's purchased, and some she's custom blended.
That entire day will be devoted to an all-female artist takeover for the music hours on CMT, and on the 24-7 digital channel CMT Music and CMT Radio's widely-syndicated shows CMT Radio Live and CMT After Midnite. To encourage more female airplay, join the conversation on the official CMT Facebook page or follow @CMT on Twitter and Instagram using the official hashtag, #CMTAOTY.