BREAKING: Kelsea Ballerini Files For Divorce From Morgan Evans After 5 Years Of Marriage
Kelsea Ballerini: "This deeply difficult decision is the result of a journey of love, growth, and effort that ultimately has come to an end."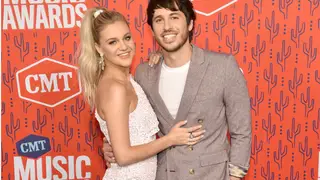 The "HEARTFIRST" singer turned to social media early Monday (Aug. 29) morning to announce the unexpected split. The 28-year-old known for her transparent storytelling got candid with her devoted fans and has set the record straight. 
"Friends, I've always tried my best to share my life with you in a real and vulnerable way, while also protecting layers of my personal life as they unfold," Ballerini wrote on her Instagram story. "This is now public record so I wanted you to hear from me directly that I am going through a divorce," she declared. 
The statement continued: "This deeply difficult decision is the result of a journey of love, growth, and effort that ultimately has come to an end. It's hard to find the words here… but I feel extremely grateful for the years of marriage to Morgan and hopeful for the next seasons," she added with an optimistic mindset. 
Evans has yet to speak out about the divorce. 
The resilient vocalist encouraged the country community to be kind and patient, as they both heal their hearts.
"With very active schedules coming up, please be mindful that we are both fragile, actively healing, and showing up the best we can," concluded  Ballerini.
Ballerini is gearing up to drop her '90s-inspired fifth studio album, "Subject To Change," on September 23. 
The highly anticipated collection is set to embody her growth as an artist. The project will also detail how she has adapted to change throughout the years. The platinum-selling performer will embark on her 10-night-only headlining tour after the release. 
The divorce comes as a surprise, as the country couple has showered each other with love and support in the public eye. According to PEOPLE, Ballerini and Evans have tirelessly worked on their marriage and turned to professionals for help. 
"They've been working on their marriage for a very long time. Prior to this, they had separated privately once before and have been in therapy for several years," a close source told the outlet. "They gave it their best go but unfortunately arrived  at the decision to formally separate."  
The two first crossed paths at the Country Music Channel Awards in Australia in March of 2016. Within the same year, Evans popped the question and tied the knot in 2017. The musicians had a tropical ceremony in Cabo San Lucas, Mexico.