Chris Young Talks Friendship With Country-Rocker Jelly Roll: "He's Not Your Normal Success Story"
Chris Young says he has a full-length album "pretty much done."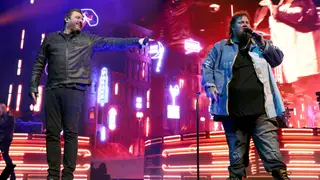 Although Young and Jelly Roll's [Jason DeFord] upbringing may have looked different, they both hail from Tennessee. Young has been navigating the ever-changing genre for nearly two decades – witnessing musicians get a taste of stardom, but he says Jelly Roll's rise to fame is like no other.
"I'm not even going to talk about me because, at this point, I just want to talk about him [Jelly Roll] and how welcoming, awesome, and polite that guy is," Young selflessly told CMT. "He's just having such a cool run," he pointed out.
Although Jelly Roll was born and raised in the 10-year town, he relatively recently leaned into his country roots with "Son of a Sinner." The vulnerability displayed within his writing pushed the friendly giant to the forefront in 2021. Jelly Roll's country debut proved that he is not a surface-level storyteller, as he places his heart on the line and sparks difficult dialogue around topics like substance abuse.
His relatability and candid approach immediately resonated with fans, shot the track to the top 30 on the Billboard Country Music chart and became the most added song on country radio upon impact. It wasn't until recently (Jan. 8) that "Son of a Sinner" peaked on the Country Aircheck chart, Country radio, and Billboard – scoring Jelly Roll his first country No.1 single.
Although his name may be new to the country space, Jelly Roll has made significant waves within the Rock & Roll world with "Dead Man Walking." The head-banging song graced the top of the Mainstream Rock Airplay chart. The way Jelly Roll experiments with his sound and remains true to himself, struck a chord within Young.
"It's just amazing to see him having the moment he's having," said Young. "I think he is kind of the person that is like, 'Hey, I can do multiple genres. I can kind of hop back and forth. I just want to create.' Not everybody can do that. It's really really cool. He's just worked hard for a really long time."
The world-renowned rapper turned country topper was not an overnight sensation. In fact, his recent success is part of his redemption story.
Since Jelly Roll was 14 years old, he has served time at Nashville's Davidson County Juvenile Detention Center. In his early 20s, the heavily-tatted singer was arrested for aggravated robbery and possession with intent to sell. While behind bars, a correctional officer broke the news that he was a father. 
Once he was released, the resilient musician ditched his poor habits and changed the trajectory of his life. He began selling CDs out of his truck, and auctioned off t-shirts at local concerts to create a prosperous life for his daughter, Bailee Ann.
Since being propelled into the spotlight, Jelly Roll has become an open book and has used his platform to make a difference in the Nashville community.
"He talks about his struggles in life and the things he's been through," shared Young. "He is not your normal success story. He's just himself, and he's welcoming to everyone else, and that's why you see me, Sam Hunt, and everybody else getting up at his shows and playing with him."
In early December, Jelly Roll played his first-ever headlining show at Nashville's legendary Bridgestone Arena. The star-studded affair served as a benefit show for at-risk children within the juvenile justice system. 100 percent of the proceeds went towards building a music center for a local institution, to give incarcerated youth creative freedom and a second chance to change.
Young was one of many who performed for the boisterous sold-out crowd. Jelly Roll tackled Kane Brown's part of Young's platinum-selling track "Famous Friends." Young said sharing the stage with Jelly Roll was an experience he will never forget and a long time coming. The "I'm Comin' Over" singer mentioned that they wanted to join forces in 2020, but the global pandemic derailed their plans. 
"It was a really cool moment seeing him in Bridgestone," said the hitmaker. "I was originally supposed to do that [perform together] before COVID with him, when he was going to play the Ryman." 
Young did not fail to mention that he hopes to collaborate with Jelly Roll in the near future.
"I think you may see something from both of us at some point," said Young with a secretive smile. "I think he's just a great dude. I always say this about collaborations. It's gotta be the right song. It's gotta be the song where I'm like, 'that works.' I absolutely could see something like that happening in the future."
Until country music fans have the ultimate duet at their fingertips, they can stream Young's latest tribute track, "All Dogs Go To Heaven" and radio single, "Looking For You." The two songs mark a new musical chapter for Young, as he's gearing up to release another full-length project.
"I've got my record pretty much done. I could drop a record tomorrow if I wanted to," teased Young. "I've already done the entire photo shoot and all that stuff. I'm so proud of this music."