Willie Nelson's Wife Annie Opens Up About Her Husband's Nerve-Wracking Battle With COVID-19
Willie Nelson's wife Annie speaks out about aiding the hitmaker back to health after an aggressive case of COVID-19.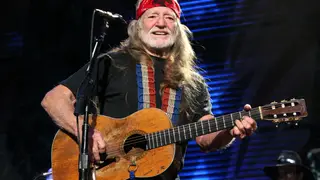 When the Coronavirus spread like wildfire in early 2020, country icon Willie Nelson hunkered down at his ranch in Spicewood, Texas – just 30 miles northwest of Austin. Due to his age and battle with emphysema, Nelson feared the virus could become a death sentence. 
For several months, the hitmaker stayed out of the public eye for his own safety. His wife Annie would flee the estate just to purchase groceries, as Nelson would hold living room jam sessions with his sons Lukas and Micah to be extra cautious. In a recent New York Times interview, Annie spoke out about the time COVID-19 suddenly came knocking on their door. 
When live music returned and the lights turned back on in Music City, Nelson picked up where he left off – touring. After dodging the illness for nearly two years, he was struck in May of 2022 on a stop in Nashville. 
According to New York Times, Nelson woke up in the middle of the night struggling to breathe. After testing positive for COVID-19, Annie went the extra mile to care for her 89-year-old husband. 
"I had a nebulizer on the bus. I started everything I could at that point, including Paxlovid. He had the monoclonal antibodies. He had steroids,' said Annie while explaining that they drove back to Texas in the middle of the night. "We turned the house into a hospital." 
While Nelson was fighting the aggressive illness, his team took to social media to cancel a string of shows and to alert fans that COVID-19 affected Nelson's band. The hitmakers camp did not clarify that Nelson was the member who had contracted the virus. 
"Due to a positive COVID case in the Willie Nelson Family Band, the Franklin, TN show at the FirstBank Amphitheater tonight and the Brandon Amphitheater in Brandon, MS on May 7 will be postponed to June 17 in Brandon, MS and June 19 in Franklin, TN," they wrote. "Both postponed shows will feature the entire original line-up including Willie Nelson and family, Charley Crockett, and Drayton Farley. The performances at the New Orleans Jazz Festival scheduled on May 8 will be canceled. Willie Nelson will be back on the road on May 27." 
Annie said that Nelson's battle was severe and concerning. 
"There were a couple of times when I wasn't sure he was going to make it," she revealed. "I had a pretty rough time with it. COVID ain't nothing to be laughing at, that's for sure." 
Nelson now has the ultimate comeback story, as it took him only two weeks from his diagnosis to get back on the road in full force. Since falling ill, his touring routine changed dramatically. For instance, band members must stay six feet away from Nelson while on stage, daily COVID tests and masks are mandatory backstage as well.  
"If I have to be the bad guy to keep him safe, I'll be the bad guy," Annie uttered. "A virus doesn't care who you are, what you believe, how famous you are," she stressed. 
The resilient artist is slated to continue his Outlaw Musical Festival tour on Sept. 9 in Alpharetta, Georgia. With health in his favor, the award-winning vocalist teased an upcoming record due to drop in early 2023.