Natalie Stovall Shares Dramatic 15-Day Hospitalization
The Runaway June singer had surgery to remove fibroids that ended with a blood transfusion and a feeding tube.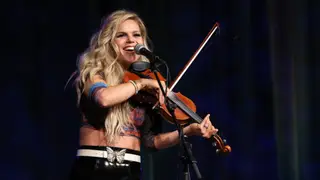 Runaway June's Natalie Stovall is on the very rocky road to recovery following a 15-day hospitalization following what was supposed to be a relatively easy surgery to remove three grapefruit-sized fibroids in her uterus.
Once the procedure started, they removed 20 fibroids and left a few in place as they tried to minimize cuts on her uterus.
Stovall indicated she had health issues on social media two days ago but waited until Thursday morning to explain the harrowing ordeal.
"I lost a lot of blood during surgery but even though I'm young and healthy, my body just wouldn't bounce back," she wrote. "I ended up getting a blood transfusion, but by that time, I already had a bowel obstruction that was wreaking havoc on my insides."
She said she spent days "hoping for the best" but had to get an NG tube – which is inserted in the nose, goes down the esophagus and into the stomach – for four or five days. Stovall didn't eat for 13 days.
"(A) total of 15 (days) in the hospital at Vanderbilt where I can't even begin to brag on my caretakers enough," Stovall wrote. "And my family. Oh, my family and friends. They were all rock solid and got me through. I feel so incredibly thankful to be at home and starting to heal."
The singer described the experience as scary and painful but said she feels fortunate that her health condition wasn't "something more long-term or serious."
"I've never been this weak before - I get out of breath just talking," she said. "And eating Ensure's and eggs is so painful. But each time gets better. Thank you all for your prayers. I am going to be focused on recovery so I can get back to all the things and people I love. But I think it's so important to share these stories with one another. I didn't even know what a fibroid was until I was diagnosed with a whole bushel of em in my belly. 🤍🤍🤍"
Stovall, a sizzling fiddle player, has been performing professionally since she was 10 years old. 
She made her Grand Ole Opry when she was 12 years old and was named one of CMT's Next Women of Country. Stovall has played everywhere from the White House to The Oprah Winfrey Show. She joined country trio Runaway June in 2020 and is a host on Circle All Access.