CMT Roundup: Cole Swindell, Jake Owen, Caroline Jones with Alyssa Bonagura, Elle King, Luke Combs, Chris Janson and More Drop New Songs
Hear the long list of new country songs this week on CMT's Roundup playlist posted at the bottom of the article.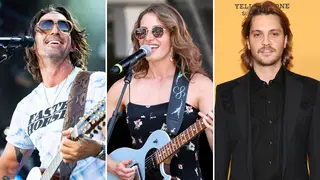 Country music is boiling over with new music this week including fresh songs from the genre's leading men, Luke Combs, Cole Swindell, Jake Owen, Chris Janson, Tyler Hubbard and more. Elle King also released her debut country album while RaeLynn shared a new song and Gabby Barrett's duet with Colton Dixon is out. Hear these new songs and more in the Roundup playlist at the bottom of the story.
Jake Owen, "My Boots Miss Yours": Written by Blake Bollinger, Brad Clawson, and Brett Sheroky and produced by Joey Moi, "My Boots Miss Yours" is destined to be a toe-tapping, foot-shuffling honky tonk dancefloor favorite. The song is all about fun, and its hooky, infectious chorus makes it an instant sing along.
Lyrics include: My boots miss yours|What ya say we get 'em back together|Make a little trail of clothes and leather|Let 'em hang out on the bedroom floor|My boots miss yours
"It's a new year, so it's only appropriate that we put out some new music to go with it," Owen said in a statement. "I've loved this song from the moment I heard it; excited to finally share it with you today."
Cole Swindell, "Drinkaby": A hands-down country rocker about drinking away a broken heart and moving on with the help of a litany of liquors, "Drinkaby" is the brand child of Swindell's fellow country artists including Jon Pardi and Hardy along with Jordan Schmidt and Hunter Phelps.
"'Drinkaby', from the first time I heard it I pictured it being a huge show opener," Swindell said. "The guitar lick in the intro just grabs you and doesn't let you go. I'm not sure if there is such thing as a fun breakup song but that's kind of what this is. Glad it's finally out and can't wait to get out there and play it live."
"Drinkaby" is one of the three new songs on his upcoming deluxe album "Stereotype Broken" that will be available April 28 and is up preorder now.
"Drinkaby" is the follow-up to recent No. 1 songs "Never Say Never" featuring Lainey Wilson, "Single Saturday Night" and "She Had Me At Heads Carolina," a five-week chart-topper.
Luke Grimes, "No Horse To Ride": Luke Grimes has made his mark on the "Yellowstone" universe as Kayce Dutton, but now the fearless cowboy is bringing his refreshing twang to the country music space with his debut single "No Horse To Ride." The fresh voice recently (Jan. 27) released the demo version of the wildly popular track, initially featured on the mid-season finale of the western drama. 
The emerging artist co-wrote "No Horse To Ride" alongside esteemed songsmiths Jonathan Singleton and Tony Lane. The acoustic-driven melody conveys a narrative about a man thanking his other half for making him the person he is today. 
"I'd be a drunk without a drink to drink | A guitar with a broken string | Without you, I'd be a falling star without a midnight sky|I'd be a train running out of tracks," sings Grimes. "Missing pages in a paperback |  Without you, I'd be the kind of lost that's hard to find | Walking through this world alive |A cowboy with no horse to ride."
The stripped-back rendition is similar to the original, but minor imperfections are pushed to the forefront. The raw sound and his ear-grabbing grit display his pure talent destined to bring him far as a musician. 
"I think of music as sort of a first love; it was my first creative outlet," said Grimes. "To be at the start of this journey, putting my own music out into the world, is beyond a dream come true. I'm grateful to the people who helped make this happen, and to anyone who connects with these songs, I will do my best to keep them honest."
Caroline Jones & Alyssa Bonagura, "Keep It Safe": On the heels of joining Zac Brown Band – Caroline Jones has teamed up with Alyssa Bonagura on "Keep It Safe," a playful track that touches upon the unmatched bliss of a new relationship. The ear-worm will transport fans back in time, as the upbeat melody and captivating harmonies emulate 90s country-pop. The two penned the timeless tune together for Jones' forthcoming album, which is due to drop in late 2023.
"People rush to call it love | Put too much pressure on a new romance | Desperate to find 'the one' | Living in the future tense," they belt. "But you don't want to miss the magic | It's so rare to have it."
The multi-instrumentalist said that collaborating with Bonagura was a no-brainer. The powerful vocals within "Keep It Safe" is similar to a magnetic force, as the witty hook and their astonishing songwriting yanks listeners in.
"Alyssa is a super talented musician, producer, singer, and songwriter, and a really genuine spirit. I'm so grateful to call her a really close friend and collaborator. This song is very 90's and harkens back to The Corrs, SheDaisy, Shania, and even The Bangles!" shared Jones. "Over the last year, Caroline and I have become such great friends, and this song was really born out of one of our deep girly chats about life and love. It's such a good reminder to be present in all things and sometimes all it takes is a good friend to remind you of that!" added Bonagura.
Chris Janson, "All I Need Is You;" Chris Janson has built his career on his high-energy performances of songs about everyday life. He sings about having fun, loving his family and celebrating country culture. Those things haven't changed. 
However, the Missouri native has witched up almost everything else – and the changes can be heard in his music. 
Janson recently shifted record labels, changed agents and got a new producer. Now, he's releasing a new song. 
The singer co-wrote "All I Need Is You" with Ashley Gorley, Brad Clawson and Mitch Oglesby. Julian Raymond produced the song with Janson and Scott Borchetta serving as executive producers. The song is out on BMLG Records in partnership with his own Harpeth 60 Records. 
"There are so many things we all want," Janson says, explaining "All I Need Is You." "We've all gotten caught up in the biggest buck of the season, the newest Chevrolet, or whatever's caught our eye— and that's half the fun of living. But when you strip it back, when you look at what really matters, it comes down to that one ride-or-die person who believes in you and your dream, no matter what happens. I'm blessed because my person is my wife, my manager, and my best friend."
Janson launched his career in 2015 with "Buy Me a Boat" and Warner Music Nashville. Over the next eight years, he charted hits including "Fix a Drink," "Good Vibes," "Holdin' Her," "Done" and his ACM-nominated "Drunk Girl."