Preview: Lady A's Charles Kelley And Wife Cassie Detail His Struggle With Alcoholism, Recovery on "CBS Mornings"
Charles Kelley's full interview will air Wednesday, May 10, between 7 a.m. - 9 a.m. ET on "CBS Mornings."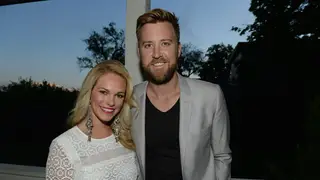 About 10 months ago, Lady A canceled their tour to allow singer and founding member Charles Kelley to tackle his alcoholism and get healthy. The group is back on the road now, and Kelley – along with his wife Cassie and his little boy, Ward – have their lives back on track.
Charles and Cassie recently sat down with Gayle King to discuss his journey to sobriety. The interview is described as "a very emotional and raw interview." And, Cassie rarely appears on television.
The singer's full interview will air Wednesday, May 10, between 7 a.m. - 9 a.m. ET on "CBS Mornings."
The interview marks the first time Charles goes into detail about hitting his rock bottom, his daily tools to stay sober and how his son was affected. It is billed as the only interview to include his wife.
In a clip of the interview, Charles said he feels like he's on the "second half of his life adventure."
"I'm living on this even keel where the little mundane things, I'm looking forward to more," he said. He offers examples of waking up in the morning, taking his son to school and sitting in bed reading at night with his wife. "You know, putting my hand over and holding her hand, I would never have done that. I would have been in that bed with a glass of wine or something and watching some kind of trash TV and not really connecting at all."
Charles and Cassie are approaching their 14th wedding anniversary.
The Georgia native recently released a video for his song "As Far As You Could." The song is an intimate goodbye letter to alcohol, and the video was filmed over the course of three concerts in the U.K. this spring. Kelley co-wrote and co-produced the song with bandmate and friend Dave Haywood.
Charles, Haywood and Hillary Scott launched Lady A with their debut single "Love Don't Live Here" in 2007. The vocal trio went on to earn 11 No. 1 songs, sell 18 million albums, 24 million tracks and accumulate 5 billion streams. Their signature hit, "Need You Now," was recently certified diamond by the RIAA and is the highest-certified song by a country group.
Lady A has tour dates booked through October.