WATCH: Shania Twain Trades Brad Pitt for Ryan Reynolds In Epic "That Don't Impress Me Much"
Ryan Reynolds looked shocked - and impressed - when Shania Twain replaced Brad Pitt's name with his in her lyric during a televised performance.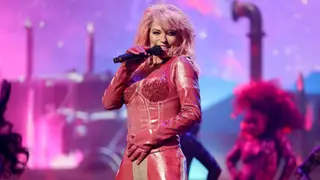 Shania Twain nixed Brad Pitt from the lyrics of "That Don't Impress Me Much" on the People's Choice Awards Tuesday night, drawing a jaw-dropping reaction from the new heartthrob in her song – fellow Canadian Ryan Reynolds. Reynolds was in the audience and looked surprised, then started laughing at his inclusion in the lyrics.
Twain, sporting soft pink hair and a layered pink costume including pink fringed chaps and a pink body suit, was honored with the Music Icon Award. But before accepting, she got the star-packed audience, including Carrie Underwood, Kelly Clarkson and Post Malone, up and dancing. Her performance was a six-minute highly choreographed montage of her hits "Any Man of Mine," "That Don't Impress Me Much," "Man, I feel Like a Woman," and more. The dancers peeled away layers of her outfit between songs to reveal new looks, and by the last song, the guitarists on stage were bare-chested.
"This is such a privilege and a dream," Twain said, slightly out of breath, while accepting the award. "Thank you so much for highlighting my work for … having significant impact. I feel it's always my wish to inspire people. I always miss my mother right now at these moments in my life. She would have loved watching her little girl living this moment right now."
Twain said that from a very young age, songwriting became her escapism but that she never knew how powerful lyrics could become when someone records them and shares them with the whole world.
"It's a great honor to be respected as a songwriter," she said. "The biggest honor for me is knowing that people have found strength and inspiration in what I have to say, in my work."
By Wednesday morning, Twain had caught her breath and turned to social media to reflect on her experience Tuesday night.
"Wow... was last night a dream @peopleschoice??" she wrote. "🥰 Thank you for calling me an icon!! 🥹 I have to confess... accepting this straight after running around 3 different stages performing my hits wasn't easy... If I had a DeLorean time machine, I would go back and tell young Shania to write more ballads and use less damn words girl!!! 😂 But in all seriousness - thank you so much for presenting me with this award, it's really still so wonderful to feel like you have created a legacy, like your contribution to the world has been meaningful in some way. Thank you. ❤️"
The appearance is another date on Twain's packed calendar as she gears up to release her sixth studio album, "Queen of Me," on February 3. She also recently announced the second leg of her 2023 Queen of Me Tour, which with more than 70 dates across North America and Europe, next year is one of her most extensive to date. The tour is Twain's first in nearly five years and comes on the heels of her successful Las Vegas residency.
To see Twain's tour itinerary, click here.
Tickets for the newly added dates go on sale starting Friday, December 16, at LiveNation.com.