CMT Roundup: New Music From Dustin Lynch, Wynonna with Trisha Yearwood and Dallas Smith
CMT rounds up the new country songs of the week.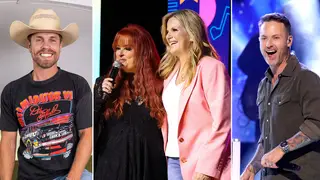 Superstar collaborations are the trend this week with Trisha Yearwood and Wynonna and Thomas Rhett with Morgan Wallen putting out new music. Dustin Lynch, Randy Houser, Dallas Smith and more are also on the lineup with new music. To hear these songs and more, check out CMT's Roundup playlist.
Dallas Smith, "Fixer Upper" and "CRZY: "When I heard 'Fixer Upper' and 'CRZY' for the first time, I knew they needed to be a part of my new musical chapter," said Smith. "They are authentic to my story and a taste of what's to come with the album."
Caroline Jones, "Talking to Milo": "Deciding to have a child was the most important and most difficult decision I've made in my life so far. It was a subject fraught with fear: fear of losing myself, my drive, the career that I've worked so hard for and the artistry and craftsmanship I still feel like I have only scratched the surface of. I hope the lyrics and video move you, and I hope, you too, find someone or something you love enough to inspire you to face your fears," Jones said.
Chris Ryan with Jelly Roll, "Scared To Go To Church": "When I started writing for the album, 'Scared To Go To Church' was the first song I finished. The minute I wrote it, I knew Jelly could help me tell the rest of the story. I left that second verse open for him. Jelly has been a good friend from day one. It's an honor to have him on the first track with me."
Wynonna Judd and Trisha Yearwood, "Cry Myself to Sleep": "I was absolutely delighted when Trisha showed up at the studio on the farm to record 'Cry Myself To Sleep' with me. We have known each other for years, but have never worked together. In today's world of technology, artists often don't get to be in the same room as the other person to record a song. It was so refreshing! I am thrilled with the song, and I cannot wait to sing it live with her," said Wynonna Judd.
"Getting to be a part of celebrating Judds music is such an honor. I'm a true fan and singing with Wynonna has been a dream come true! I'm proud to be a part of honoring the music that Naomi and Wynonna created," said Trisha Yearwood.
Dustin Lynch, "Honky Tonk Heartbreaker": "That's us just chasing a fun story scenario that takes me back to (Nashville's) Lower Broadway and those nights. I still like to go have those nights.
"I still love bouncing around there. It's a medium that I like to filter my songs through, so I like to still go see, feel the energy.  I was down there as a cover band trying to earn tips in the jar for years and 'Honkytonk Heartbreaker' just take me back to those nights."
Randy Houser, "Cancel": "You'll have a certain amount of people that won't even look at it because of the title," Houser told Rolling Stone. "It's OK to call things out. But that doesn't mean all-out war with each other over something that you disagree with. We're tearing our country apart by doing that. I believe in what the Bible says about forgiveness, that we're commanded to forgive. Just treat people fairly and if you see someone needs a friend, be one."
Thomas Rhett with Morgan Wallen, "Mamaw's House": "Morgan and I were writing one day and he got a call from his Mamaw," Thomas Rhett said. "We got to talking and realized we both had a 'Mamaw' growing up and so we decided to write a song about that. The song describes my grandmothers and Morgan's as well - we wanted to describe a small town piece of paradise. Growing up, I can remember going to both of my grandmothers' houses in South Georgia. I learned so many life lessons there about hard work, manners, and respect. This song really hits home for me and I hope everyone feels the same."
Wallen added: "Many times in the past I've been open and honest about the love I have for my Mamaw Boots. It was only a matter of time before a song was inspired by her. I dedicate this one to not only her but to my living grandmothers as well. I hope they know what a big part they've all played in shaping my life. TR had a similar experience growing up so I'm really glad we got to write and record this song together. Hope y'all enjoy it."