Justin Moore Bonds with a Foo Fighter
Eight Ways They Are So Much Alike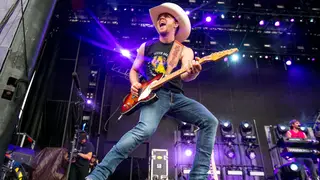 When two musicians get together to talk about life, love and the pursuit of happiness, does genre even matter? If Justin Moore's conversation with the Foo Fighter's Chris Shiflett is any indication, it does not.
While Moore's country world and Shiflett's rock world are admittedly pretty far apart, the two men discovered about 45 minutes worth of things they have in common during Shiflett's recent Walking the Floor podcast. The weekly show is Shiflett's second side hustle, so when he's not playing lead guitar for the Foo Fighters and not touring as a solo artist, he's hosting the musicians that make country great.
Here's what Moore and Shiflett agreed on:
They are both in awe of the rapid growth of the music festival scene. "It has grown over the course of my career," Moore said, "with 10 to 15 new ones each year. And it's a whole different vibe than playing in an arena."
They both cannot understand why their kids would rather play with technology than play outside. "It has quelled a desire to go root around the neighborhood and throw rocks," Shiflett said. "Get out there and see something."
They talked about what it's like to have their kids on the road. "My kids love the bus more than the show," Moore admitted.
They both said that they don't have to search around for music they love. "I'm at an age where music just finds me," Shiflett said.
They both had the same proving grounds for their live shows at VFWs, Moose lodges, and Elk lodges very early on in their careers, before Moore moved to Nashville and before Shiflett joined the Foo Fighters in the late '90s.
They share the same influences of traditional country music and southern rock. And they share a healthy obsession with Dwight Yoakam.
They both have massive respect for guitar God Brent Mason.
They both watched the Lynyrd Skynyrd documentary Lynyrd Skynyrd: If I Leave Here Tomorrow and loved every minute.
When they finally got around to talking about Moore's new music, and his new single, "The Ones That Didn't Make It Back Home," Shiflett invited Moore to play a little something. He chose "'Til My Last Day."