Brandy Clark Tackles Insecurities, Faces Death and Returns Home In New Self-Titled Album
Brandi Carlile produced Brandy Clark's new album. Carlile told her to rewrite a song, Clark balked, saying: "I don't just slop this shit together."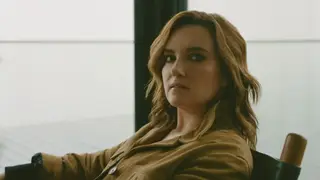 Brandy Clark was days away from watching "Shucked," the musical she wrote with friend and fellow songwriter Shane McAnally, earn a whopping nine Tony nominations. Her self-titled fourth studio album was due in stores a couple of weeks later, and she had to be on stage in about an hour. But when Clark walked into the barrel room at Regusci Winery in Napa, California, she wanted to talk about her beloved dogs.
"You know, they have like their own careers that I've made up," Clark laughed as she eased back into the leather couch. Clark is wearing white, and it's in stark contrast to the dim, cavernous room filled floor to nearly ceiling with barrels of wine. "Charlie, the youngest (dog), has a horse named Sugar. I have this whole scenario in my head with Charlie and Sugar."
The fanciful storyline is only fitting for the woman who helped write "Shucked," Broadway's runaway comedy. "Shucked" is set in the fictitious rural Cob County that depends on the thick wall of corn surrounding it to survive. When the corn starts to die, local girl  Maizy heads to the big city for help.
"She sees a sign for a corn doctor who's really a podiatrist but who's also a con man," Clark said. "It's a comedy of errors from there. But it's also a story of letting an outsider in and what happens when you do that. And, how if you don't, if you're not open to outside ideas and outside people, you'll never grow. The corn is really a euphemism for growth."
Clark knows a few things about leaving the comforts of home for growth. She moved from the Pacific Northwest to Nashville in 1998 to immerse herself in songwriting. When Music City couldn't figure out how to make her songs stick on country radio, a California branch of Warner Bros Records became home for her recorded music. She still lives in Nashville, but when it came time to record her new self-titled project, she headed west again to record with Grammy darling Brandi Carlile, who produced the project, at the famed Shangri-La studio in Malibu, CA.
"Brandy is one of the greatest songwriters I've ever known," Carlile said. "And I feel like I now know exactly who Brandy Clark is through the portal of this singular brilliantly written album. Brandy's voice is like a friend you've had your whole life the second you hear it. I know I'm not alone in feeling this way. This is her moment. This is the one. I was blessed beyond measure to be the person she trusted to support and facilitate that swan dive."
As lighthearted as Clark is as she talks about her dogs, her self-titled album is weighty. She sings about child molestation in "Ain't Enough Rocks," a murder banger that's a collaboration with Derek Trucks. The song gave her pause because she wasn't convinced she should sing about it if she hadn't survived it.
"It's not my story," she said. "I wouldn't want to make light of somebody else's story. But I'm very much an eye-for-an-eye kind of person, so that's what that song is. I loved that part of writing it."
The album's lead single, "Buried," isn't about death but surviving a broken heart.
Lyrics include: I'll meet somebody else| Probably get married| I'll keep it to myself| But I'll love you 'til I'm buried
Carlile asked her to rewrite the second verse when she got in the studio to record it, and Clark balked. She didn't want to.
"I was like, "I don't just slop this shit together like this,'" she said.
A line in the song talks about reading "Lonesome Dove" and doing yoga.
"She said, 'I just don't believe you do yoga,'" Clark recalled. "And I said, 'Well, I mean, I don't.' But, I wrote it with a songwriter I really respect, and I always try to be in service to the songs. She said, 'Well, I think that needs to change. I think you need to be in service to the artist.' Wow. That really shifted something."
Clark rewrote the lyric to say: I'll read Lonesome Dove| Fall asleep to Hallelujah| I'll take some trippy drug| Makes me forget I even knew ya
Carlile joined her to sing "Dear Insecurity." They glide through the poignant lyrics, singing: Hey insecurity| You try on all my clothes| It just occurred to me| That you may live in my phone| You tell me I don't fit in| Push me close to quittin'
The song was born from someone hurting her feelings before leaving for her songwriting appointment. Clark couldn't shake her mood. Driving to the meeting, she remembered one of her friends telling her, "Insecurity is the ugliest human emotion."
"Usually, when somebody hurts you, it's their own insecurities," Clark said. "I was trying to remind myself of that."
When she arrived, she asked her co-writer how he felt about the title "Dear, Insecurity." He loved it.
"I started to think about things in my own life that my insecurities had messed up," she said.
"I thought maybe there's something there. There's always a song in everything."
Carlile wasn't supposed to be her duet partner on the song. She just sang it with her in the studio, and they planned to replace Carlile's voice with Lucinda Williams. Furthermore, Carlile had made it clear that she didn't want to sing on Clark's album. When Clark fell in love with the scratch vocal they recorded together, she thought she faced an impossible dilemma.
"Brandi and I are from the same part of the country," she said. "We're around the same age. We're both gay. We have similar insecurities, so it felt very real to me. I really tossed and turned about, 'How do I ask her to do it?'"
The next day, Clark just spit it out: "I'd really like it if it was you."
Carlile said: "Oh buddy, all you had to do is ask!"
The album is a return home for Clark, an 11-time Grammy-nominated singer-songwriter, and is the rawest work she'd shared in years. Something clicked when Carlile told Clark her self-titled collection was her return to the Northwest.
Songs including "Northwest" and "She Smoked In The House" were sparked that day and taken directly from Clark's life.
"(Brandy's) songs make us feel," said CMT's Leslie Fram. "(She) writes timeless music. And her voice, honestly, the way (she) delivers the songs is incredible."
Carlile said she chose her favorites for the album based on which ones sounded like Clark wrote them in her bedroom. It was an emotional reminder for the singer about what drew her to music.
"When we grew up and loved records and would drive around and listen for the same song for hours, it wasn't because we could hear how it was written," she said. "We heard how it felt."