CMT Roundup: New Music From Kolby Cooper, Kimberly Perry, Luke Grimes and more
Find these songs and CMT's other favorite new releases by artists including Kane Brown, Dolly Parton and Shenandoah with Luke Combs in the network's Roundup Playlist.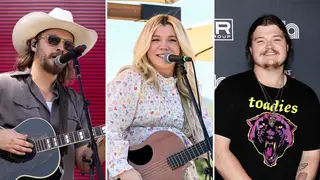 It's the first weekend of autumn and leaves are starting to drop – but not as fast as new music from the biggest names in country music. Artists including Kane Brown, Dolly Parton, Lady A, Kimberly Perry, Kristian Bush, and Kolby Cooper have new music out this week. Find these songs and CMT's other favorite new releases in its Roundup Playlist.
Kimberly Perry, "Fool's Gold": "'Fool's Gold' is about my experience out West, pursuing pop music, and chasing a so-called golden carrot," Perry said. "While I needed that season and that adventure to discover more about who I am, all of it ultimately led me back home to Tennessee, to Johnny, and to country music. Thank God for the dead ends; it's where we get to spin around and start making our way to our truest selves."
Kolby Cooper, "Hello From the Road": "'Hello From The Road' is a song we wrote about being on the road for the past four years, and it was specifically inspired by a night in Birmingham after a show when our former merch guy got knocked out cold in a pool game gone wrong," Cooper said. "I called my wife when we got back to the bus and told her it was crazy out here, and I can't wait to be home."
Dolly Parton Featuring Linda Perry, "What's Up?": "First of all, I love Linda Perry," Parton said. "Second of all, I love this song written by Linda. Third of all, I love being a part of this video to try to make people think about what's going on in this world today. Shout out to the little children that helped with the video! If our children don't make it, then what will? Again, I ask 'What's Up?' Enjoy."
Kane Brown, "I Can Feel It": "I was playing Stagecoach and doing interviews there on-site about what would be amazing and unexpected performances you'd want to see happen," Brown said. "I think I surprised a lot of interviewers with my answers- which were 'Cher, Phil Collins...' and the next day I was writing in Canada and went into the write with those Icons on my mind and just love the way the song came out. I immediately knew I wanted it as my next single."
The Cadillac Three, "Double Wide Grave": "It's a heavy love song," singer Jaren Johnston said. "'Double Wide Grave' is another song I wrote about me and my wife, but it happened to be written when we were also dealing with the loss of Taylor Hawkins from Foo Fighters. I made that track a day or two after he passed. At the time, I was producing the Foo Fighters' guitarist Chris Shiflett's album, so I got to witness the pain the band was going through. I did everything in the song like they would've done it, just with a southern TC3 spin added in, and it worked."
Lady A, "Love You Back": "When we first heard 'Love You Back,' we knew immediately it was such a great fit for us," the band said. "Heartbreak is something almost everyone has experienced, and this song describes that experience in a whole new way. We've loved seeing how fans react to the song, and to now share the official version with everyone is really special!"
Kristian Bush, "House On A Beach (Island Version)": "One of the magic pieces of streaming music is that catalog songs have value that they never did before because we have access to them and what we might've missed the first time," Kristian Bush said, referencing songs that have been out for a while. "This is another look at what was everybody's favorite song for a long, long time."
Luke Grimes, "Burn": "'Burn' came from a simple classic rock style melody and the idea of running headfirst into a heartbreak, almost asking for it," Grimes said. "The song always had a bit of Tom Petty vibe as he's always been a big influence for me. Getting in the room with Randy Montana and Josh Thompson showed me what seasoned songwriters can do with a simple idea; I love how this track turned out."
Camille Parker, "Peace": Peace is the third single released by Camille Parker.  Following the success of her songs "The Flame" and "Heartless", Camille is back with a sultry love song that exposes some hard truths. Written with Megan Redmond and Chris Ganoudis, "Peace" touches on the pressure women often feel in relationships to be their partner's everything.  But in this latest release, Camille is letting the world know that she's done being responsible for other people's peace.