Shania Twain Talks Reinventing Her Sound And The Importance Of Mentoring Other Musicians
Shania Twain: "I sound different. I look different, and I'm OK with that. I'm fearless in that way, and that motivates me."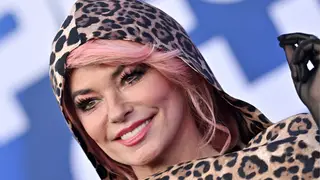 When Shania Twain contracted Lyme disease in 2003, the voice that made her country music's best-selling female artist was slowly disappearing.
For nearly a decade, doctors couldn't discover the underlining health condition – until one connected her symptoms to a tick bite she received while horseback riding. While discovering her new reality, she underwent open throat surgery in 2011.
The country icon recently caught up with InStyle to talk about her frightening battle with the illness and how she was forced to reinvent her sound to persevere forward in the entertainment industry.
After the operation, Twain said she was worried to sing.
"After I had the surgery, I was petrified to make a sound," Twain told the outlet. "I didn't know what was going to come out. It did scare me, but I just had to take the leap and make a sound. I was so excited about what came out. It was a connection to the vocal cords, and it came out very easily. I was really, really, really excited."
Although she was pleasantly surprised by her sound, the scare served as a wake-up call and life lesson.
"It's a reminder, don't take time for granted. Don't take the opportunity for granted. It's possible I might lose it, that it may not last," she explained. "I guess any prosthetic or support that you get that is synthetic, your body still may give out around it. It could happen."
At the height of COVID-19, the singer-songwriter penned new material and experimented with her artistry. The passion project "Queen of Me" born while tucked away in quarantine, is due to drop on Feb. 3. The 12 songs on the sixth studio album will display a new side of Twain, one that country fans will not recognize.
"It's more rhythmic in a lot of ways. That is very new to me, to the broadness of my recording style so far," said Twain. "There's a lot more 'get up and want to shake your body' kind of thing. There's still some stomp in there, thought. It's almost like everything is there, but in a new dimension. I just really want to get up and dance to it myself."
"Queen of Me" marks Twain's first release in five years and debut collection with the label, Republic Nashville. Twain's self-assurance and perspective on life will shine through on tracks such as "Waking Up Dreaming," "Last Day of Summer,"  "Not Just A Girl," and more. The five-time GRAMMY Award winner said that she had to push her musical boundaries to cultivate the collection and find new ways to tackle specific notes.
"It's easier for me to make loud sounds than it is to make soft sounds," she revealed. "When the air is dry, it's hard to get that resonance. When I'm loud, it happens, which was the opposite problem before I got the surgery. I'm just not as worried as I was when I was younger. I'm a professional. I want things to be great. I want to be as perfect as I can be as a professional, but I'm not a perfect person. I sound different. I look different, and I'm OK with that. I'm fearless in that way, and that motivates me."
Twain's triumphs and tribulations have not gone unnoticed, as many musicians have turned to the songstress for advice throughout the years. Hitmakers like Avril Lavigne, Harry Styles, Orville Peck, and Kelsea Ballerini have utilized Twain for her expediential expertise.
"Artists will ask for advice or will share stories, and I feel a little bit like an aunt in a way. It sort of makes me feel auntie-ish, which I like. I enjoy it," she uttered. "I'm a nurturing person and I like to share my experiences. I've gone through them, so what good are they if I can't pass them on or share them? It's like dying with a good recipe. It's a shame. Nobody wants to keep them for themselves. I enjoy passing any of it on."
The trailblazer is expected to give Nashville newcomers and fast-rising stars a large platform on her 2023 World Tour. The Queen of Me Tour will kick off on Friday, April 28, at Spokane Arena in Spokane, Washington. The 50-day trek will hit iconic venues in massive cities across the United States, Canada, and Europe.
Mickey Guyton, Lindsey Ell, Ballerini, Hailey Whittters, Lily Rose, Robyn Ottolini, BRELAND, Priscilla Block, and more will appear for select dates. Tickets are available for purchase, here.