Jordan Davis Says His New Record "Bluebird Days" Is His Most Vulnerable Collection To Date
Jordan Davis: "I want this record to explain where I'm at and who I am."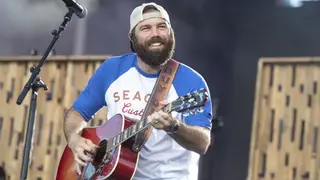 The exciting news comes on the heels of his big win at the 2022 CMA Awards, where he brought home Song of the Year for "Buy Dirt." Davis co-wrote the sentimental single alongside his brother Jacob, Matt Jenkins, and Josh Jenkins. The viral hit became the most streamed song of 2022 and recently received an American Music Awards nomination, his first one ever. 
Davis told CMT that "Buy Dirt" was one of the first tracks he wrote for his forthcoming record, which he believes is his most vulnerable collection to date. When cultivating the project with esteemed songwriters on Music Row like Jordan Walker, Matt McKinney, and long-time producer Paul DiGiovanni – Davis' main priority was to step outside the box. 
"We didn't want to sit down and re-write another 'Buy Dirt.'  We have new sounds on it [the album] and pushed the production," he exclusively explained. "We just approached songwriting differently. It felt like a new chapter was started." 
As he flips to the next page of his music career with "Bluebird Days," he hopes his fans grow with him and discovers ways to relate to the raw storytelling. 
"I think one of the things that I've always wanted to do as an artist is to grow and have my fans grow with me," said Davis. "I kind of look back on old songs like 'Singles You Up' and 'Take It From Me.' I wrote those as a single guy and just living. Now, I have two kids…I want my fans to know this is where I am at in my life," he added. 
While penning the tracklist, Davis fearlessly let his guard down and placed his heart on the line. Country music fans will hear a refreshing new side of Davis, a man who is willing to share his pain and happiness to help others. His powerful knack for songwriting is destined to touch souls worldwide and remind listeners that they are never alone. 
The title track will touch on his parents' divorce, and "Be You" will serve as a tribute to hardworking fathers. 
"There's one song on there that I wrote. It is really personal," he said about 'Bluebird Days.' "I come from a divorced family. There's a good chance someone could be dealing with that…it's pretty sad." 
When he decided to pull from his upbringing, Davis said that his brother and frequent collaborator initially hesitated. 
"He's on this one with me," he pointed out. "He was kind of shocked that I wanted to go there that day. He was like, 'Man, are we really gonna do this?' I was like, 'Yeah…you know we're not the only ones with divorced parents.' I want this record to explain where I'm at and who I am. My wife comes from a divorced family. So, we got four families we have to see. Holidays can get kind of tough," he added ahead of Thanksgiving. 
Davis did not share his mother and father's opinions on the song,  but said they are blown away by their success thus far in the industry. 
"I can tell you, they are very proud," he said with a smile. "They weren't when both of their kids decided to move to Nashville to write songs. We figured it out somehow. Jake is my best friend in the world, so being able to sit down and write a song with him is unreal." 
"Bluebird Days" is the follow-up to his 2018 debut, "Home State." The country crooner is currently on tour with Luke Combs, but will take a break to perform during Macy's Thanksgiving Day Parade on Nov. 24. The exciting new project will be available to pre-order Friday, Nov. 18, and fans can purchase autographed memorabilia on Davis' official website.