Watch: "CMT Crossroads: The Black Crowes & Darius Rucker" Debuts Tuesday Night
Chris Robinson has an idea for CMT's next Crossroads pairing -- Miranda Lambert and Slipknot.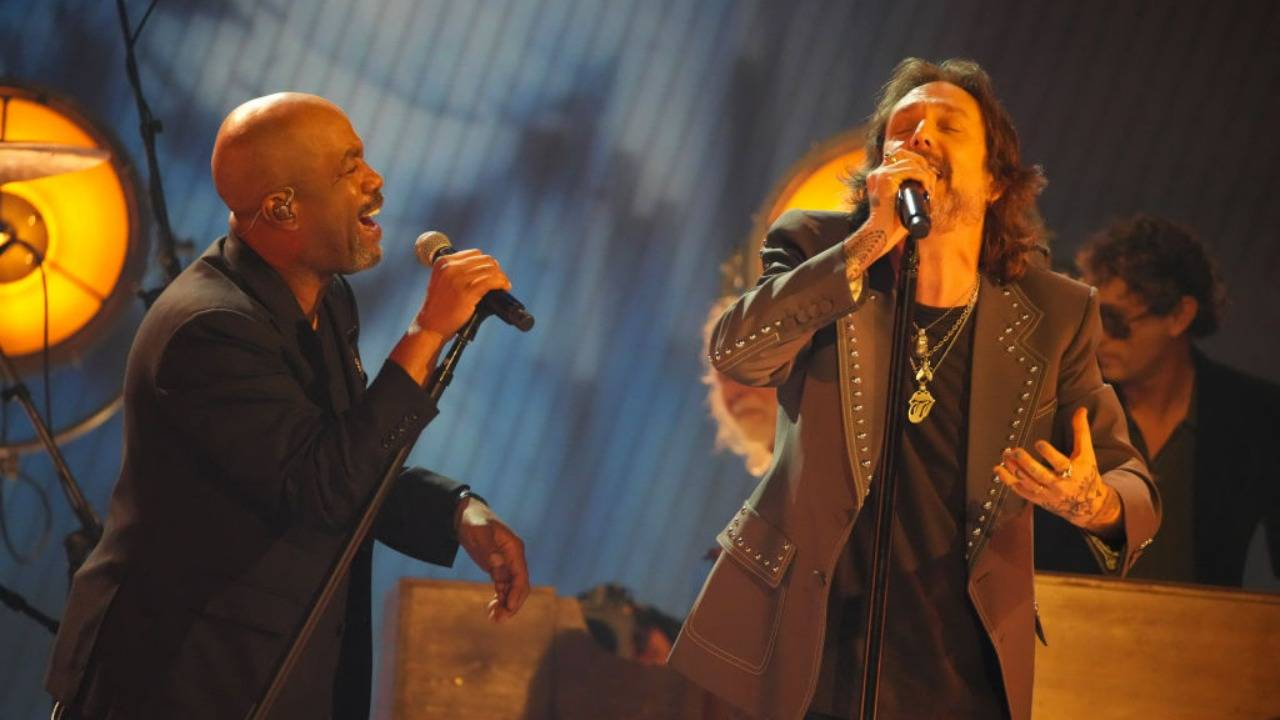 Chris Robinson's mom is the 11th child of 13 children, and she grew up in Nashville, Tennessee. The Black Crowes singer frequently sees country stars wear the band's merchandise, and he knows many of them cite The Black Crowes as influences.
Winding up with a starring role in CMT Crossroads seemed like a foregone conclusion.
"CMT Crossroads: The Black Crowes & Darius Rucker" is a one-hour episode and will premiere 10p/9c Tuesday, May 16th, with an immediate encore at 11p/10c and 12a/11c on Friday, May 19th. The show will also go live on Wednesday, May 17th on CMT.com, CMT VOD, and the MTV app (CMT Crossroads), with subsequent premieres on CMT MUSIC and MTV LIVE.
"Rock 'n roll is the great bastard child of all the musical forms, most of them, obviously, American musical forms," Robinson said. "So, this show is not that big of a stretch. It's a cool opportunity for us to get out of our wheelhouse and do something different, but that's not really different, you know what I mean?"
Robinson and Rucker have been friends for years, and before the show, he said he hoped their performances would be seamless.
"To get to do stuff with him is always cool," Robinson said of Rucker. "We come from sort of the same scene, even though our trajectories and our bands and music are different. REM's shadow looms large over all of our influences and career choices. It all fits together, you know?"
The longtime friends taped the episode in Austin, Texas, while in town for the CMT Music Awards. They swapped stories and performed on each other's biggest hits, including The Black Crowes' "Hard To Handle," "She Talks to Angels," and "Remedy," along with Rucker's "Wagon Wheel" and "Let Her Cry," and Drivin N Cryin's Southern rock anthem "Straight To Hell."
"I've been a fan of The Black Crowes for decades, and I'm grateful that we've also become good friends over the years," Rucker said. "The first time I heard 'She Talks to Angels,' I remember being so moved by the lyrics that I went around Columbia, South Carolina, asking every single bar to play it. I went home that night and put on Bonnie Raitt's 'Home Plate' and decided I was going to try to write 'She Talks to Angels' for her. 'Let Her Cry' was what poured out of me. These guys have been so impactful on my career, and sharing the stage with them was a blast."
Robinson even has an idea for CMT's next Crossroads pairing.
"I'm excited to see Miranda Lambert and Slipknot," he said. "I wonder what song they'd do?"
"CMT Crossroads: The Black Crowes & Darius Rucker" is executive produced by CMT's Margaret Comeaux and Michael McNamara. The Executives in Charge of Production are Jackie Barba and Heather D. Graffagnino. Leslie Fram is Executive in Charge of Talent; Shanna Strassberg is Talent Producer.
For more information, visit CMT.com, check out "CMT Crossroads" on Facebook & YouTube and use the hashtag #CMTcrossroads.