LISTEN: Morgan Wade Teases An Unreleased Song She Wrote With The Pistol Annies
Morgan Wade says her next album will include a handful of collaborations, including a track with seasoned songwriter Julia Michaels.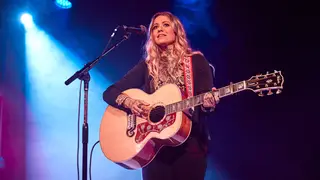 The breakout star previously turned to social media to tease an unreleased track titled, "Want." Wade co-wrote the country ballad alongside Ashley Monroe and Angaleena Presley, members of the award-winning girl group. The "Wilder Days" singer has not confirmed if Miranda Lambert participated in the writing session. 
"Want. I wrote this one with the amazing @ashleymonroemusic and @guitarleena a while back❤️," she said alongside the video. 
While sporting a baseball cap and oversized t-shirt, Wade tugged at her acoustic guitar to deliver the weighted lyrics. Wade conveys a relatable storyline about an individual with their priorities in order and knowing what they "Want." The protagonist finds themselves placing their heart on the line to win over true love. Wade's raw emotion transcends through the screen, as listeners are destined to feel the burden on her shoulders. 
"You've been teasing me | All this time | But you can't change | One try to mine | You can't sway me | I'm too hard-headed | When I'm set on something | I'm gonna get it | I know what I want," she sings. "I know what I want | I know what I want | baby, it's you | I want you so bad | It's tearing me up | We don't have to say 'forever' | We don't have to call it love." 
Fans flocked to the comments to praise the empowering melody and to applaud Wade for her crystal-clear vocals. 
"I can already tell this will be an on-repeat song when it's released omggg," shared a follower. "I got the low harmony 🔥 🔥," called Presley. "Amazing! And is that not the co-writing dream team?" added another listener. 
Wade is currently working on her next album, which is expected to drop in 2023. It is unclear if "Want" will be featured on the upcoming project, but the fast-rising star is excited for fans to hear the well-rounded collection that she penned with a variety of seasoned songsmiths. 
"The next record is definitely in 2023, but it's getting me into the studio," Wade told CMT at Windy City Smokeout in Chicago. "I'm super excited because this new stuff is going to be great. I've been able to write a bunch with new people, so that's been really cool," she added. 
The promising artist continued to mention that the forthcoming project will have more collaborations than her chart-topping LP, "Reckless (Deluxe Edition)." 
"There's a couple," she said referring to the partnerships. "Definitely a lot of really cool writers for this next one. We're not done. I still have room to add some more songs and some new people. I will say there's a song in there I did out in LA with Julia Michaels. I love her and think she's one of the best songwriters. She's a genius lyrically and such a nice person. I am super pumped about that song. That's going to be my favorite song on the entire record," she added. 
Although Wade did not leak the song title, she confirmed it would be about heartbreak. She has not revealed a set release date yet.