Why Garth Brooks Is Texting Keith Urban
Their Virtual Stagecoach Q&A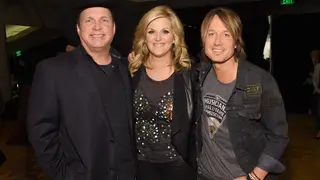 On Sunday night (April 29), after Lee Brice, Brett Young, Kane Brown and Aaron Watson play for the Stagecoach fans out in Indio, California, Garth Brooks will have the honor of closing out the three-day festival with the last show on the last night.
And since Brooks hasn't really covered the fair and fest territory on his tours, he texted Keith Urban -- Saturday night's headliner -- for some artist-to-artist advice.
"Keith Urban's on there, so I had to text Keith, 'Hey, man. What are these things like?' And he said, 'It'll be the most fun you've ever had,'" Brooks said in a recent radio interview.
Then in his latest Facebook live video, Inside Studio G, Brooks asked his fans not to use up all their energy and enthusiasm the first two nights of Stagecoach. "Save some for me, would ya? Please," he said, adding that he is more than ready to get back up on stage. "The time off has been appreciated, and been taken advantage of, but the truth is, if you get away from music for two seconds, you already start missing it. So we are all kind of hungry to get out and play again."
Elsewhere at the fest on Sunday, country newcomer Ashley McBryde and folk-rock legend Gordon Lightfoot will be headlining other stages.