WATCH: Garth Brooks Announces New Studio Album, Limited Series Boxed Set
Garth Brooks: "I'm going to tell you right now, I guarantee that this'll be the last Limited Series that we'll do."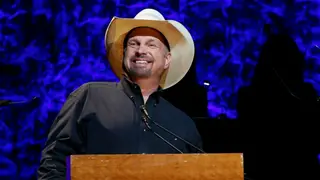 Garth Brooks is known for loving a boxed music set, possibly more than any other singer on the market. Releasing the collections is a way for him to ensure fans always have access to his deep catalog of songs. Monday night, he announced plans for his next box of songs. And this one is a bit different – it includes a new studio album. The set will be available this fall only at Bass Pro Shops.
The seven-disc set is available for preorder now.
"The first Limited Series came out in the late '90s," Brooks said Monday on his weekly Facebook Live broadcast "Inside Studio G." "And what it was, was a chance for everyone to get all the music at a really cool low price. Everyone gets to 'catch up,' which I thought was cool."
This is Brooks' third Limited Series boxed set. The first was released in 1998, and the second came out in 2005.
"I'm going to tell you right now, I guarantee that this'll be the last Limited Series that we'll do," he said.
Brooks' new boxed set will include his most recent album "Man Against Machine," "Gunslinger," FUN," "Triple Live" and the new album.
He previewed some of the new music on Inside Studio G and said fans could hear his new music on his radio station, The BIG 615 (on TuneIn), and on Amazon Music before it is in stores.
"I love The BIG 615; I love what it's doing right now," Brooks said. "It's so cool."
Brooks said country music is "not a small family" and that he's been excited to see how many people worldwide listen to the station. Not only are international country fans listening to The Big 615, but international country artists are also submitting music for consideration to be played on the radio network.
"What happens in our industry is that the labels are convinced that if they put out country music anywhere outside of the US, they need to take the fiddles off," Brooks said. "I'm not convinced. People love steels and fiddles. I think that's what country music is. What I love about The 615 is you're getting it right out of the oven. This is country music how it comes out."
For more information on Brooks The Big 615, click here.