Pics: Travis Denning Weds Country Music Royalty
Travis Denning and Madison Montgomery were married in Lebanon, Tennessee, over the weekend.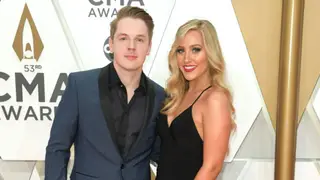 Country singer Travis Denning married into country music royalty over the weekend when he and fiancée Madison Montgomery said 'I do' at The Estate at Cherokee Dock, a high-end event venue in Lebanon, Tennessee.
Church pews were placed in the grass facing a lake, which provided the backdrop for the country couple's nuptials.
"Not a bad Saturday if I do say so myself ❤️" Denning shared on Instagram along with a photo of him kissing his new wife.
Montgomery added: "The Dennings 🤍" with a series of photos.
The bride wore an unadorned one-shouldered ball gown and carried a bouquet of white magnolias.
The couple has been together for four years, and People reports they plan to honeymoon in Switzerland. Her brother, country singer Walker Montgomery, was a member of the wedding party.
He commented: "Y'all look great but I think the groomsmen really stole the show."
Denning proposed to Montgomery, daughter of "I Swear" singer John Michael Montgomery, in New York City's Central Park in the fall of 2021.
"I knew after three months that you were the one," Denning wrote on Instagram at the time. "Honestly, I think I knew the moment I met you. I feel like I've known you for a thousand years. We've been through so much together, and I can't wait for the rest around the corner. I wrote this song back in May 2019 about this moment. I love you."
Denning, known for songs "ABBY" and "After a Few," posted an adorable candid video montage of his fiancée flaring her nostrils, dancing and acting silly.
"Guess what just came? You're going to get that in about a month," he sang as he flashed the ring on the screen. "Saved three months like they told me to. In and out of that store for a week or two."
In another post, Denning prompted followers to swipe right to see Montgomery's ring finger and added #shesaidyes.