Jimmie Allen Accused of Rape, Sexual Battery, False Imprisonment, Sex Trafficking
Jimmie Allen's former day-to-day manager filed a lawsuit detailing the allegations on Thursday.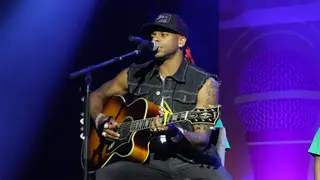 WARNING GRAPHIC CONTENT: Jimmie Allen's former day-to-day manager is accusing him of raping her and repeatedly subjecting her to sexual abuse and harassment over 18 months while she worked for the management company he was signed to.
The accusations come weeks after Allen and his wife announced their separation but revealed they were expecting their third child.
The accuser, identified as Jane Doe, gave a detailed account of what she claims Allen did to her to Variety. Before the alleged rape, the woman says she was a virgin.  
Variety reports a lawsuit was filed Thursday in Tennessee federal court.
The woman claims that on a work trip to Los Angeles in March 2021, she woke up naked in her hotel room bleeding and in severe pain. She says Allen was beside her in bed and told her to take a Plan B pill. She said she remembered nothing of the night before but knew she had lost her virginity through no fault of her own.
She told Variety other unwanted encounters included groping her breasts, pushing his erect penis against her body in public, masturbating in front of her and forcing his fingers inside of her while she tried to yank her hand away.
Allen issued a statement to Variety acknowledging he had a sexual relationship with the woman but says it was consensual.  
"It is deeply troubling and hurtful that someone I counted as one of my closest friends, colleagues and confidants would make allegations that have no truth to them whatsoever," Allen said. "I acknowledge that we had a sexual relationship — one that lasted for nearly two years. During that time, she never once accused me of any wrongdoing, and she spoke of our relationship and friendship as being something she wanted to continue indefinitely. Only after things ended between us, did she hire a lawyer to reach out and ask for money, which leads me to question her motives. The simple fact is her accusations are not only false but also extremely damaging. I've worked incredibly hard to build my career, and I intend to mount a vigorous defense to her claims and take all other legal action necessary to protect my reputation."
Jane Doe gave a variety of text messages, medical documents and other communications to the magazine to corroborate her story. The outlet also interviewed her friends and family.
Jane Doe's attorney told Variety her client never asked for money.
"The only ask we made of Allen and his legal counsel was to meet to discuss Allen's behavior and resolution of our client's claims. At no time did our client make a monetary demand. The response was a hard no and colored with threats that his team would take steps to publicly tarnish my client. My client had no choice but to be proactive in protecting herself by filing the complaint," she said.
Jane Doe is suing Allen, his former management company Wide Open Music where she worked and its founder, Ash Bowers.  
The accuser said she was told Allen was promiscuous but harmless when she was hired. She said she reported his alleged verbal harassment to her boss on many occasions. When she reported the alleged rape, Wide Open Music dropped Allen as a client. However, she said, they eventually fired her, too.
Bowers told Variety Jane Doe wasn't fired for retaliation but because Allen was no longer with the company and her position was eliminated. Bowers told Variety that Wide Open Music has entirely transitioned out of artist management.
Variety reports that Jane Doe filed a civil lawsuit against Allen, Bowers and Wide Open Music on Thursday with the United States District Court of Tennessee. According to Variety, Allen is being sued for sexual battery, assault, false imprisonment, sex trafficking and emotional distress. Variety said Bowers and Wide Open Music are being sued for gross negligence and participating in a venture engaged in sex trafficking, among other things.
Variety reports attorney Elizabeth Fegan, founding partner of the Chicago-based firm FeganScott, represents Jane Doe. Fegan previously represented women who have accused Harvey Weinstein and female students abused in the USC gynecology scandal.
Jane Doe is requesting a jury trial and is seeking undisclosed monetary damages.