Nora Collins Talks Throwback Sound in "Who Knows Who"
Member of CMT's Artist Discovery Program Adds Patsy Cline Factor to New Song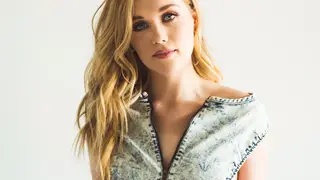 One listen to the opening lines of "Who Knows Who," the playful new single by rising artist Nora Collins, and it's clear it's not a melody one hears every day.
Co-written with Jake Mitchell and Nick Donley, the song is a fun, lighthearted story about a new couple who play hard to get with one another. The main character isn't sitting by the phone waiting for her crush to call and wondering what he's doing without her. Instead, she's occupying her time with good times with good friends.
"I feel like we've all been there in a relationship when you want someone to know, 'Hey, I'm doing just fine without you and you have no idea where I am, what I'm doing and how much fun I'm having without you,'" Collins tells CMT.com. "But still, there's part of you that wants this person so bad. I feel like it's very relatable, sassy, fresh and young. It's definitely something I connect to and something I've experienced, which is why I love it so much."
For the video, Collins went with a retro theme to go along with the track's throwback vibe. She's a major Patsy Cline fan, and it shows in the way Collins' voice curves around a melody.
"From writing it and getting it in the studio," Collins says, "It just lent itself to that. I'm a big Patsy fan, and there was a summer in high school where she was all I listened to. So, we kind of played on that a little bit, too."
A Milwaukee, Wis. native, Collins has made Nashville her home for the last two years. "Who Knows Who" is the first song from an upcoming EP with producer Marshall Altman (Frankie Ballard, Natasha Bedingfield and Eric Paslay).
On tour through the summer, she has averaged more than 200 appearances annually for the past six years, opening for several artists including Lee Brice, Brandy Clark, Kelsea Ballerini, Jon Pardi, Maren Morris, Ashley Monroe, Josh Turner, Michael Ray, High Valley, Mo Pitney, Ronnie Milsap and many more.