Wynonna Judd Gives Concerned Fans A Mental Health Update: "Can't Keep A Good Woman Down Too Long"
Wynonna Judd says she's "working so hard" to stay mentally, physically, and spiritually fit.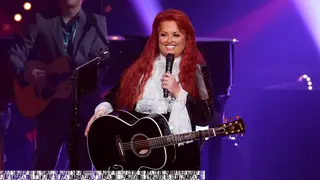 Following her death, the "What It Takes" singer embarked on a tribute tour with fellow female trailblazers in the genre. Her constant grind and lack of grieving time sparked concern among fans, leaving Judd to acknowledge her current well-being in a candid message.  
The country powerhouse turned to TikTok on Tuesday, Jan. 3, to give a mental health check-in. Judd filmed herself from her Tennessee home and revealed that she's mentally, physically, and spiritually fit. 
"Well,  I'm OK," said Judd. "Checking in. I have heard the comments. The first thought I had was, 'opinions and bubbles.' Then I realized that people are genuinely concerned. So, I want to respond to that piece." 
Judd shared a comment that captured her attention. The post by a social media follower pointed out her "managers" actions and how they believe she's being pushed "too hard."
The statement read, "I'm worried that her 'manager' is pushing her too hard. The term 'hit it while you're hot' was used. I don't believe that it is in her best interest, mentally and physically. For God's sake…she just tragically lost her mother. Seems like her manager is getting a little greedy at  the expense of her health." 
The singer-songwriter instantly fired back and opened up about her personal journey since the tragic incident. She stressed that her camp has been supportive as she navigates her new reality. 
"I am working so hard on my mental, physical, and spiritual well-being," clarified Judd. "I have a great team. I'm really blessed, and I'm broken. I'm working really hard at self-care, which is not selfish. It's sacred. Just know, I'm me. I work really hard. We call it 'Wynonna Incorporated,' because I incorporate a lot into my life." 
Although she has a "very full schedule," Judd revealed small tactics that positively benefit her mindset and hobbies that she pursues during her free time. 
"I also have time off to be on the farm, to walk in the woods and take the dogs. Tonight is Mexican night, we are playing games, and it's family," the songstress pointed out. "So, I'm OK. The last thing I want to say is: can't keep a good woman down for too long." 
Country music fans flocked to the comments to applaud Judd for her fresh perspective and healthy journey. 
"You go girl!! I'm so grateful you are OK. I'm also grateful that you are taking the time you need to heal," said a devoted supporter. "You're a beautiful woman inside and out. Just keep on making your music," added another. "Keep being you! I lost my mom at the start of 2022 and had more mojo and stamina than I have in years. People caring us amazing. People projecting or judging…is not. Sending love❤️," shared esteemed songwriter Debbie Gibson.   
Despite the enlightening post, she previously had to pull out of a New Year's Eve performance with tourmate, Kelsea Ballerini. Just hours before taking the spotlight, Judd fell ill and aided herself back to health on her tour bus. 
"I was looking so forward to singing with my dear @kelseaballerini tonight," Judd wrote on Instagram. "Instead, I am on the bus struggling with an extreme bout of vertigo, and am unable to perform. 😢💔 Nashville, I am absolutely heartbroken and so sorry to have let you all down tonight. Kelsea, I look forward to stepping onstage with you  in February, better than ever!!!" 
Ballerini, Ashley McBryde, Little Big Town, Tanya Tucker, Brandi  Carlile, and Martina McBride will join the legend on The Judds: The Final Tour for select dates. The 2023 run will kick off on Jan 26  in Hershey, PA, and wrap in Hollywood, FL, on Feb  25. Tickets are available for purchase, here.