Clint Black Reveals 35th Anniversary "Killin' Time" Tour
Clint Black will travel the U.S. and Canada in 2024, playing his "Killin' Time" album in its entirety.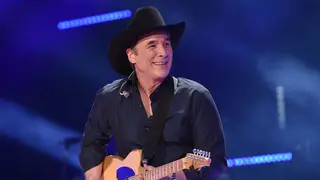 Clint Black isn't killing time when it comes to celebrating the 35th anniversary of his breakthrough hit and album "Killin' Time." The award-winning multi-platin-selling singer-songwriter revealed plans on Tuesday for a sweeping 2024 Killin' Time – The 35th Anniversary World Tour. During the show, Black will perform his triple-platinum debut album live from start to finish.
"Time flies when you're…Killin' Time!" Black said in a statement. "My band and I are very excited to play the album top to bottom. Revisiting these songs has been inspiring, and we can't wait to hit the road and play it for the fans! Starting at the Ryman will make for a very special send-off to all points North America!"
The tour will launch with three back-to-back concerts at Nashville's famed Ryman Auditorium in February and then swing through Oklahoma and Texas, up to Pennsylvania and over to California and into Canada.
In addition to performing the entirety of the "Killin' Time" album, which also includes hits "A Better Man" and "Nobody's Home," Black will deliver many more of his career-making hits. He's also known for songs including "Loving Blind," "Like the Rain" and "A Bad Goodbye."
And the tour isn't the only celebration Black has planned. A special vinyl reissue of "Killin' Time" will be issued in partnership with Sony Music and Vinyl Me Please to mark the milestone. The album will ship in May 2024, and fans can sign up to be notified when pre-orders go live at www.clintblack.com.
The initial tour dates include:
 February 16, 2024 - Nashville, TN - Ryman Auditorium
February 17, 2024 - Nashville, TN - Ryman Auditorium
February 18, 2024 - Nashville, TN - Ryman Auditorium
February 23, 2024 - Durant, OK - Choctaw Casino
February 24, 2024 - San Antonio, TX - San Antonio Stock Show & Rodeo
February 29, 2024 - Roanoke, VA - Berglund Performing Arts Center
March 1, 2024 - Roanoke Rapids, NC - Weldon Mills Theater
March 2, 2024 - Cherokee, NC - Harrah's Cherokee Event Center
March 23, 2024 - Lancaster, PA - American Music Theatre
March 24, 2024 - Nashville, IN - Brown County Performing Arts Center
April 6, 2024 - Carlton, MN - Black Bear Casino Resort
April 21, 2024 - Georgetown, TX - Two Step Inn Fest
April 26, 2024 - Chandler, AZ - Wild Horse Pass Hotel & Casino
April 28, 2024 - Indio, CA - Stagecoach
June 13, 2024 - Abbotsford, BC - Abbotsford Arena
June 14, 2024 - Penticton, BC - South Okanagan Arena
June 15, 2024 - Prince George, BC - CN Arena
June 16, 2024 - Dawson Creek, BC - Ovintiv Arena
June 19, 2024 - Lethbridge, AB - ENMAX Arena
June 21, 2024 - Edmonton, AB - Winspear Centre
June 22, 2024 - Strathmore, AB - Strathmore Stampede
June 25, 2024 - Saskatoon, SK - SaskTel Arena
June 27, 2024 - Moose Jaw, SK - Moose Jaw Arena
July 11, 2024 - New Salem, ND - ND Country Fest