Cole Swindell Hints At Proposing To Girlfriend Courtney Little: "I Think That Could Happen"
Courtney Little is featured in Cole Swindell's latest music for "She Had Me At Heads Carolina."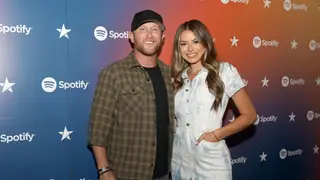 The "Stereotype" singer recently attended the 2022 CMA Awards (Nov. 9) dressed to the nines and with his special lady Courtney Little on his arm. The star-studded affair marked the second time the two walked the red carpet together, causing country music fans to speculate if a diamond ring would be coming sooner than later. 
Ahead of the ceremony, the hitmaker caught up with E! Insider to give an update on their happy relationship. When asked if he plans to pop the question, his answer was not so surprising. 
"I think that could happen," said Swindell with a smile. "We'll see," he added. 
Swindell said he's been pondering the idea of engagement for quite some time, but has been waiting for the right moment. 
"That's something that I've obviously thought about," declared the vocalist. "I've just been waiting on the right person. And I feel like we've been together over a year now. So, it's been nice. I'm happy. She's happy, and we'll see what happens." 
Sparks between the two lovebirds began to fly in September of 2021, when Little appeared in Swindell's music video for "Some Habits." The two weren't together at the time but had undeniable chemistry throughout the romantic clip. Swindell considers the day on set their "first date."  
"That was kind of our first date having to act like it was a love song video, and we didn't really know each other," recalled Swindell. "We always laugh and say we wish we could go back and reshoot it. Now that we actually are together and feel the way we were acting in the video," he added. 
Although the two fell for each other while filming – they first met at a NASCAR race, when Little worked for Monster. Little was 2017 Miss Teen North Carolina and a former NBA dancer for the Charlotte Hornets. Now, she's the co-owner of The Little Sisters Boutique. 
The vocalist said he's been waiting a "long time" for a woman like Little to come around. He even believes that Little is "way out" of his "league."  
"I've waited a long time for this," he gushed to ET. "This is the best feeling in the world. I'm excited to have her with me and just to be able to celebrate this with someone. It just feels different." 
The two performed the duet at the 56th CMA Awards. Swindell dubbed the live act one of the most "special moments" in his career thus far. Following his Back Down to The Bar run, the singer-songwriter is slated to join country sensation Thomas Rhett on his highly anticipated Home Team Tour in 2023. For upcoming appearances and tickets, visit coleswindell.com.