Blake Shelton is "Really Proud" of His "Remodeled 'Body Language'"
Blake Shelton's "Body Language Deluxe" is home to "Come Back as a Country Boy," "We Can Reach the Stars" and his Brooks & Dunn collaboration "Throw It On Back."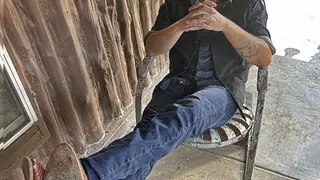 Christmas came early for Blake Shelton fans Friday when the popular "The Voice" coach released the 16-song deluxe edition of his album "Body Language."
"Body Language Deluxe" is home to No. 1 hit "Happy Anywhere" and Top 10 "Minimum Wage" in addition to new single "Come Back As A Country Boy," sentimental fan favorite "We Can Reach the Stars" and his Brooks & Dunn collaboration "Throw It On Back" that weren't included on the album's initial release.
"We wanted to release this deluxe album because some songs came in at a point in time where I wasn't ready to make a new album," Shelton said in a statement. "But, I wanted to get these songs out there, so that's what we decided to do. You guys go check it out; we're very proud of this thing."
"Body Language" is a distilled swig of the song sense and musical dexterity that earned Shelton, the five-time CMA Male Vocalist of the Year, 20 platinum singles and 28 No. 1 songs. Over the last two decades, the Oklahoman made it his job to crank out boot-stomping bangers, heartbreak anthems and endearing odes to love gone right. He returned farming to a sacred place on country music's mantel, shared his spotlight with the genre's legacy artists and up-and-comers, and developed an unparalleled ear for original country songs of faith – all elements on display in the deluxe version of "Body Language."
View this post on Instagram
"My history has been constantly evolving from one album to the next," Shelton said. "I always just try to push it just far enough to keep myself interested and my fans interested, but not so far that they don't hear anything on the record that brings them right back home to what they expect from me."
The original version of the album includes the title track - a contemporary country/'80s pop mash co-written by The Swon Brothers, Matt McGinn and Ryan Beaver. "Corn" is an up-tempo toe-tapper that leans heavy into Shelton's love of farming. And "Bible Verses" is a heart-stopper performed from the perspective of a desperate man trying to lead a better life. Add in his defiant "Come Back As a Country Boy" and his love letter to wife Gwen Stefani, "We Can Reach the Stars," and "Body Language Deluxe" is possibly the most diverse album of Shelton's career.
"I want to have some great country songs to sing," Shelton said. "I want people to hear the album and enjoy it. I want it to have sad songs that make them sad and happy songs that make them smile. That's what I feel like my job is. I always want people to feel like they got their money's worth. As long as they're like, 'That's what I wanted from Blake,' I'm happy."
Catch Shelton on television in the coming days. On Monday, Shelton will perform on ELLEN and is headed to NBC's People's Choice Awards on Tuesday.
"The Voice" also airs 7 p.m. CT Mondays and Tuesdays on NBC.
BODY LANGUAGE DELUXE TRACK LISTING
1. Come Back As A Country Boy (Michael Hardy, Josh Thompson, Jordan Schmidt)
2. Fire Up The Night (feat. HARDY) (Michael Hardy, Jordan Schmidt, Brian Kelley, Bart Butler)
3. Minimum Wage (Nicolle Galyon, Jesse Frasure, Corey Crowder)
4. Body Language (feat. The Swon Brothers) (Colton Swon, Zach Swon, Matt McGinn, Ryan Beaver)
5. Happy Anywhere (feat. Gwen Stefani) (Ross Copperman, Josh Osborne, Matt Jenkins)
6. Now I Don't (Jessi Alexander, Alysa Vanderheym, Michael Hardy)
7. Monday Mornin' Missin' You (Jessi Alexander, Deric Ruttan, Josh Thompson)
8. Corn (Craig Wiseman, Matt Dragstrem, Chris Tompkins, Rodney Clawon)
9. Makin' It Up As You Go (Brad Tursi, Shane McAnally, Josh Osborne)
10. Whatcha Doin' Tomorrow (Dallas Davidson, Kyle Fishman, Casey Beathard)
11. The Girl Can't Help It (Ben Hayslip, Josh Osborne, Mark Holman)
12. The Flow (Shane McAnally, Ross Copperman, Josh Osborne)
13. Neon Time (Jaron Boyer, Michael Tyler, Ben West)
14. Bible Verses (Joe Fox, Andrew Peebles, Brett Sheroky)
15. Throw It On Back (feat. Brooks & Dunn) (Bobby Pinson, Ben Hayslip, Rhett Akins)
16. We Can Reach The Stars (Blake Shelton, Craig Wiseman)