ACM Awards: Backstage and Upfront with Brett Young
Promises More Vulnerable and Emotional Music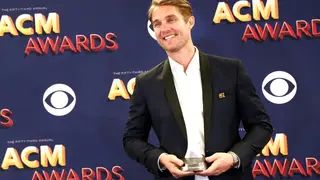 It's cool to look back on what you've accomplished, but Brett Young is committed to looking ahead.
After winning the ACM Award for new male vocalist, Young came backstage on Sunday night (April 15) to talk about what he's been up to since then 2016 release of his self-titled debut album. And more importantly, about the follow-up.
"It already felt like a win when they named me in the category," Young said of his nomination and ultimate win. "This ride has been really interesting. I've been doing this for a lot of years, but from the time we signed our deal, I've been on cloud nine and living my dream. I feel so fortunate."
Young co-wrote the hit singles from that album -- "Sleep Without You," "In Case You Didn't Know" and "Like I Loved You."
"I think the first album was pretty clearly a very deep insight into me and my life, and I never want to stray too far from that," he said. "But the opportunity that I've had to write with some of the bigger, better writers in Nashville made me want to really dig into what's made them so good. So rather than write my life story, I'm finding ways to take their idea and still put my DNA on it.
"There is still a lot of vulnerability and emotion in these songs, but there's a cool twist on (the music) because it's influenced heavily by some of the best writers in Nashville."
He's also well aware that the music business is one of volatility and uncertainty, so he's not taking anything for granted. "I know in a business like this, it can be taken away at any time. So I'm trying to enjoy it. I hand-picked everyone in my band, so I feel like I'm out there with family every single night," he said. "I got so lucky."
An all-new CMT Hot 20 Countdown, airing Saturday and Sunday (April 21-22) at 9 a.m. ET, will have more on all the action from the ACMs in Las Vegas.