Wynonna Judd Says She Wrote A Song Called "Broken And Blessed" About Her Late Mother Naomi Judd
Wynonna Judd talks grieving journey and how she grew closer to her sister, Ashley Judd.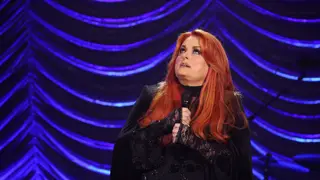 "I don't know what I would've done," Judd told ET about music becoming a positive resource. "I wouldn't be alive. I don't think. It wouldn't be good, let's put it that way," she added.
Naomi Judd unexpectedly passed away on Saturday, April 30, after losing her battle with mental illness. The 76-year-old country phenomenon died from a self-inflicted gunshot wound. Just one day after her death, the Judds made history as the first all-female group to be inducted into the Country Music Hall of Fame.
While getting ready for the second leg of her nationwide trek, Wynonna turned to songwriting. The tour would have marked the mother-daughter duo's first live trek together in over a decade.
"I just wrote a song called 'Broken And Blessed,' and that's how I feel on this tour," explained the hitmaker. "I'm somewhere between hell and hallelujah. Is one of the lines in it."
The resilient artist delivered a snippet of the unreleased track. The heart-wrenching lyrics describe Judd's internal emotions and how she's holding on to persevere forward.
"This is me, I'm broken and blessed standing there," she sings a capella for ET's Rachel Smith. "I struggle. I think when I struggle, I say it onstage."
Judd did not confirm if she would share the emotional ballad during the 15-city tour or a potential release date. While music has become a light in Judd's life, she mentioned that her family grew closer during the challenging time.
"I'm an orphan now, and I know that," said Judd. "I also have a sister I'm getting close to more so than ever. That's a remarkable thing to have someone in your life that you're so different from, but that you can meet somewhere in the middle, and it works. When you work it, you're worth it," she added about her sister Ashley Judd.
When Smith asked how Naomi would react to her daughter carrying on with the tour, Judd fired back with a witty response.
"The funny side of me says, 'she doesn't care because she's in a parade somewhere. She's on to the next party," she uttered with a smile. "All I can tell you, is (my) mother's heart does not represent her disease. The word disease, dis-ease. It's a horrific thing, and my mother's heart is for her children."
She added, "I think about it all the time. She was as determined to die as she was to live. And that's her story, and it's part of the legacy, and it's painful. The music is what remains, just like love."