HARDY Reveals The Secret Behind His Country-Rock Album "the mockingbird & THE CROW"
HARDY talks about Lainey Wilson's authenticity and why he wanted her on "Wait In The Truck."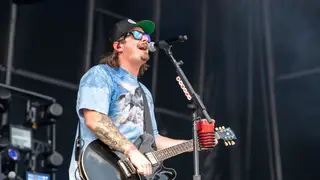 Fast-rising star HARDY recently reintroduced himself – an unpredictable country-rocker. 
The innovative songwriter turned hitmaker proved that he's willing to march to the beat of his own drum with "the mockingbird & THE CROW."  HARDY's 17-song sophomore album was released on Friday, Jan 20, and solidified that he's a country artist with rock star potential. 
The reigning ACM Songwriter of the Year teamed up with a handful of esteemed lyricists on Music Row to cultivate the double-side project that displays HARDY's artistry. The first half, "Mockingbird" exhibits HARDY's knack for storytelling – which single-handily made him a household name within the country genre, while "CROW" brings his love for Rock & Roll to the forefront. 
Heavy hitters such as Soundgarden, Pink Floyd, Stone Temple Pilots, and Matchbox 20 influenced HARDY's sound growing up in rural Philadelphia, Miss. While working alongside Hillary Lindsey, David Garcia, Ashley Gorley, Jessie Jo Dillion, Jordan Schmidt, Brett Tyler, and more, HARDY managed to merge his deep passion for country and rock together. While many musicians make their albums for their fans, HARDY told the outlet that this specific collection is for himself. 
"I truly kind of selfishly think that this one is, "yeah, for me," I think. It's like, "here I go." The rock stuff is definitely, definitely for me," explained HARDY. "I mean, I think a lot of the country stuff is what the people want, but the rock thing was just kind of to prove to myself that it can be done and that you can kind of have a country lyric over some of this insanely heavy stuff. And I wanted to do that for myself."
"the mockingbird & THE CROW" follows his critically acclaimed 2020 debut, "A ROCK." Following the release, the vocalist scored 2022 BMI Country Songwriter of the Year, AIMP Songwriter of the Year, received several nominations for the 2022 CMA Awards, became of CRS' 2021 New Faces of Country Music, and is a two-time CMA Triple Play award recipient. 
Although he has penned 12 No.1 singles since 2018, HARDY believes "the mockingbird & THE CROW" is his best collection and work to date. 
"I am extremely excited to have this record out," he said upon release. "I truly believe that this is two years of my best writing and think that it perfectly describes who I am as an artist, having grown up listening to rock 'n roll, but also grown-up country. Thank you to everyone for the support and everybody for working so hard on bringing this record to life. I hope everyone enjoys it." 
HARDY unintentionally stumbled upon the idea for the cross-country album, as it came to him while enjoying a day out on the water. 
"I was on [my boat] one day, and I was going down the river, and I saw a crow flying through the sky, and I saw a mockingbird attacking it," said HARDY. "You see that a lot. I just saw that as a sign and wrote down 'the mockingbird & THE CROW.' I was like, "Man, that'd be a really cool concept or a really cool song idea." And this was in the process of writing for my record." 
The project, which includes collaborations with Morgan Wallen, Jeremy McKinnon, and breakout star Lainey Wilson verifies that HARDY is a risk-taker, not afraid to touch upon sensitive topics like domestic violence. 
HARDY shared that he came up with the title "wait in the truck" with world-renowned songwriter Hunter Phelps. Despite the chilling narrative about abuse, he explained that it was not difficult to write. Upon release, the duet became the No.1  most added track at country radio. 
"I think it was Hunter, was like, "Dude, why don't we just write the s**t out of it and try to make a murder ballad and that "Ole Red" [by Blake Shelton] storytelling?" And then, I don't even remember the rest," he shared. "The creative thing was just flowing, and it just all happened. And then, Renee [Blair] actually did all the "have mercies" and stuff, which became such a huge part of that song… I sang the girl part originally, and then, Renee came in and sang the demo." 
He said that asking Wilson to partake in the project was a no-brainer. 
"We sat around and talked about other people and this person and that person and all that. But I don't mean this out of any disrespect, but Lainey is that girl. She's the most authentic. I believe her voice when she sings it, that it actually happened to her, which it didn't, thankfully," uttered HARDY. "She just becomes that person, because she is authentically herself. And I just knew that people... I wanted that song to move people and help people get through a hard time. And I knew that her voice was going to be the voice that makes people believe it, which makes people relate it to themselves more. And so, it was always Lainey."
In support of the record, HARDY is gearing up to embark on his headlining tour on Feb.16. The must-see run will begin in Indianapolis, IN. and will wrap in late April. For upcoming appearances and tickets, visit hardyofficial.com.