Kane Brown Talks New Tour And Single Inspired By Phil Collins
Kane Brown's "I Can Feel It" is available for pre-save, and his 2024 In The Air Tour will launch in March.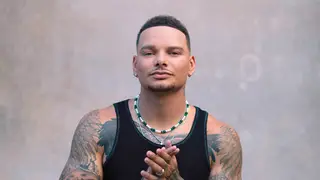 What do Tyler Hubbard, Chris Young, Phil Collins and Parmalee have to do with Kane Brown?
They each touch Brown's new single "I Can Feel It" or his 2024 In The Air Tour.
"I Can Feel It" was inspired by Collins' massive hit "In The Air Tonight" and is the follow-up to Brown's 10th No. 1 song "Bury Me in Georgia." Brown gave Collins a songwriting credit on "I Can Feel It," along with his co-writers Gabe Foust and Jaxson Free.  
"I was playing Stagecoach and doing interviews there on-site about what would be amazing and unexpected performances you'd want to see happen," Brown explained in a statement about the song's inspiration and referencing his 2023 headlining run at  Stagecoach Festival. "I think I surprised a lot of interviewers with my answers- which were 'Cher, Phil Collins...' and the next day I was writing in Canada and went into the write with those Icons on my mind and just love the way the song came out. I immediately knew I wanted it as my next single."
Hubbard, Young and Parmalee are among those who will join Brown on select arena and stadium dates in 2024. Other acts set to support Brown include Bailey Zimmerman, Raelynn, LoCash, Cole Swindell and Jon Pardi.
The tour starts March 28 in Charlottesville, Virginia, and stretches to September in Arlington, Texas. Brown will visit venues including Boston's Fenway Park, Seattle's T-Mobile Park, Denver's Coors Field and BMO Stadium in Los Angeles.
Brown wrote on Instagram: "See you in 2024…🔥"
"Lookin' forward to it man!" Parmalee added.
Zimmerman jumped in with: "My dawggg LETS GET ITTT🔥🔥"
"LETTTTSSSSSS GOOOOOOO," Raelynn said.
"I Can Feel It" is available now for pre-add/pre-save here. Tickets go on sale Sept. 28 at kanebrownmusic.com.
Kane Brown's 2024 In the Air Tour Dates:
March 28 -- Charlottesville, Va. @ John Paul Jones Arena (with Tyler Hubbard/Parmalee)
March 29 -- Pittsburgh, Pa. @ PPG Paints Arena (with Tyler Hubbard/Parmalee)
March 30 -- Newark, N.J. @ Prudential Center (with Tyler Hubbard/Parmalee)
Apr. 4 -- Detroit, Mich. @ Little Caesars Arena (with Tyler Hubbard/Parmalee)
Apr. 5 -- Toronto, Ontario, Canada @ Scotiabank Arena (with Tyler Hubbard/Parmalee)
Apr. 6 -- Buffalo, N.Y. @ Keybank Center (with Tyler Hubbard/Parmalee)
Apr. 11 -- Kansas City, Mo. @ T-Mobile Center (with Tyler Hubbard/Parmalee)
Apr. 12 -- Rosemont, Ill. @ Allstate Arena (with Tyler Hubbard/Parmalee)
Apr. 18 -- Des Moines, Iowa @ Wells Fargo Arena (with Tyler Hubbard/Parmalee)
Apr. 19 -- Minneapolis, Minn. @ Target Center (with Tyler Hubbard/Parmalee)
Apr. 20 -- Grand Forks, N.D. @ Alerus Center (with Tyler Hubbard/Parmalee)
Apr. 26 -- Lubbock, Texas @ United Supermarkets Arena (with Tyler Hubbard/Parmalee)
Apr. 27 -- Houston, Texas @ Toyota Center (with Tyler Hubbard/Parmalee)
Apr. 28 -- Austin, Texas @ Moody Center (with Tyler Hubbard/Parmalee)
May 9 -- Eugene, Ore. @ Matthew Knight Arena (with Tyler Hubbard/Parmalee)
May 10 -- Sacramento, Calif. @ Golden 1 Center (with Tyler Hubbard/Parmalee)
May 11 -- Sacramento, Calif. @ Golden 1 Center (with Tyler Hubbard/Parmalee)
May 17 -- Salt Lake City, Utah @ Delta Center (with Tyler Hubbard/Parmalee)
May 18 -- Las Vegas, Nevada @ T-Mobile Arena (with TBA special guest/Parmalee)
May 19 -- Tempe, Ariz. @ Boots in the Park (with Tyler Hubbard/Parmalee)
May 30 -- Orlando, Fla. @ Amway Center (with Tyler Hubbard/Parmalee)
May 31 -- Tampa, Fla. @ Amalie Arena (with Tyler Hubbard/Parmalee)
June 1 -- Tampa, Fla. @ Amalie Arena (with Tyler Hubbard/Parmalee)
June 7 -- Raleigh, N.C. @ PNC Arena (with TBA special guest/Parmalee)
June 8 -- Atlanta, Ga. @ State Farm Arena (with TBA special guest/Parmalee)
June 20 -- Milwaukee, Wisc. @ Summerfest
July 20 -- Boston, Mass. @ Fenway Park (with Jon Pardi/LoCash/RaeLynn)
Aug. 16 -- Seattle, Wash. @ T-Mobile Park (with Chris Young/LoCash/RaeLynn)
Aug. 24 -- Los Angeles, Calif. @ BMO Stadium (with Tyler Hubbard/LoCash/RaeLynn)
Sept. 6 -- Denver, Colo. @ Coors Field (with Bailey Zimmerman/LoCash/RaeLynn)
Sept. 14 -- Arlington, Texas @ Globe Life Field (with Cole Swindell/LoCash/RaeLynn)