Toby Keith's "Don't Let The Old Man In": The Story Behind The Song
Toby Keith will release "Don't Let The Old Man In" to country radio on Oct. 30.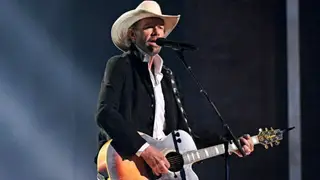 Toby Keith, who has been battling stomach cancer for the last two years, recently made a triumphant and much-publicized return to television when he performed "Don't Let The Old Man In," a song inspired by his friend Clint Eastwood, on an awards show.
Now, Keith has teamed with BMLG Records to get the song to country radio by the end of the month.
Lyrics include: And I knew all of my life| That someday it would end| Get up and go outside| Don't let the old man in| Many moons I have lived| My body's weathered and worn| Ask yourself how would you be|If you didn't know the day you were born
Keith wrote the song in 2018 following a conversation with Eastwood about living life to the fullest – regardless of age.
Keith told The Tennessean he met Eastwood at Pebble Beach in California, an area known for golf resorts. Both men are golf enthusiasts, but although they had that in common, Keith was initially too nervous to approach him. Eventually, Eastwood introduced himself to the country singer, and became friends. Eastwood invited Keith to be his partner in a golf tournament a few days from the actor's 88th birthday. Keith asked him what he was doing to celebrate.
When Eastwood told him he was going to shoot a movie, Keith was shocked.
"It's like, 'You're going to dedicate the next three months of your life to shooting a movie? What keeps you going?'" Keith said. "He said, 'I get up every day, and I don't let the old man in.' I said, 'I'm going to write this (darn) thing right now.'"
It took Keith two days to crank out the song and couldn't quit working on it.
"I knew who I was writing it for, and I knew who had inspired me to write it," Keith told The Tennessean. "I wanted to deliver him the best thing I could. I knew the song could be powerful, and I didn't want to leave any stone unturned. The second I wrote it, it was like I jumped 500 feet in the air. I knew I had accomplished what I wanted to accomplish."
"Don't Let The Old Man In" originally appeared in Eastwood's movie, "The Mule." Keith said writing it is "one of my favorite things I ever did in my life."
"Don't Let The Old Man In," which will impact Country radio October 30.
"Scott Borchetta, Allison Jones, George Briner and I all had the honor of working with Toby at DreamWorks Records," shared Jimmy Harnen, President/CEO, BMLG Records. "After seeing Toby's incredible performance of 'Don't Let The Old Man In' on the People's Choice Country Awards, we were so moved, we wanted to be a part of this song any way we possible—we're looking forward to taking it to Country radio, DSPs and beyond."
Borchetta added: "We are honored to, again, represent Toby Keith and this amazing song and moment. Jimmy, George and I worked 12 of his No.1 hits."