CMT Premiere: Karissa Ella Pays Homage To Her "Hometown Bar" In Nostalgic Music Video
Karissa Ella: "I am lucky and grateful that I get to live in Nashville and chase my dream, but even luckier to have a great hometown to go back to."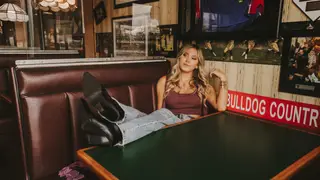 Among the old-world buildings in Rootstown, Ohio, there is a sticky saloon called The Dusty Armadillo. The hole-in-the-wall bar may be ACM-nominated, but a historical staple in the quaint town. Before fast-rising artist Karissa Ella fled to Nashville to pursue her artistry, the Midwest bar gave the aspiring songstress a platform to share her voice. 
To pay homage to the venue that played a vital role in her career, she penned a love letter-like song called "Hometown Bar." Karissa Ella co-wrote the nostalgic track alongside Aubrey Toone, Cassidy Best, and Regan Rousseau. 
Throughout the imagery-heavy melody, the vocalist contemplates what her life would have looked like if she didn't chase her country music dream and stayed in her hometown. While displaying her contagious sound – similar to hitmaker Kelsea Ballerini's, the robust musician effortlessly sets the tone by name-checking frequent customers and townies. 
Although she is now building a life in Music City, she made it clear that her heart still belongs to her "Hometown Bar." 
"While they pour me another | I just sit and wonder| Who I'd be if I stayed | All I know is I've changed | They're all drinkin' off the same day | Spending blue-collar money the same way," she sings. "If they could would they leave | Does everybody dream | Well I don't know | Nothing breaks my heart | Like my hometown bar." 
To paint the picture, the newcomer turned to video producer & director Wales Toney from Whale Tale Media. In order to transform Karissa Ella's vision into a reality, the two fled to the Buckeye state to film in her "Hometown Bar." 
"It was important to me that we filmed this video at my actual hometown bar in Ohio. Luckily, my videographers were up for the challenge and flew to Ohio to shoot at the ACM-nominated bar, The Dusty Armadillo in Rootstown, OH," she exclusively told CMT. "I wanted this video to be authentic and something I will smile at when I look back. We had friends and family in the video, which made it even more special. It felt like a normal day at my hometown bar." 
Toney captured the songstress in her element – raising a glass with loved ones, intermingling with locals, and catching up with the bartender that knows everybody's name. Although the clip is dark and dingy, her vibrant voice and optimistic storyline serves as the light. 
She mentioned that it took hours to film, but the day was filled with unforgettable memories. 
"We started at 8:00 AM and ended at 8:00 PM. The long day of shooting was rewarded with plenty of memories, laughs, and Bloody Marys," Karissa Ella pointed out. "Let's just say, all the extras didn't need coaching on how to have a good time!" 
Although the single conveys her personal story and connection, she hopes fans resonate with the sentimental aspect that a place could hold. 
"My 'Hometown Bar' video is a nod to local bars and all the people in them. I hope people can identify with those salt of the earth kind of people that we all know and love," she shared. "The song has a bit of a somber tone, it really is about a girl reflecting on how much she misses her hometown and wishes she could be there hanging out with the people she loves and has known her whole life."
After watching the final clip for the first time, Karissa Ella said that she felt nothing but "proud."
"I am lucky and grateful that I get to live in Nashville and chase my dream, but even luckier to have a great hometown to go back to," she added with confidence.