Pics: Carrie Underwood Concludes THE DENIM & RHINESTONES TOUR
Over the course of her expansive tour, Carrie Underwood welcomed special guests including Axl Rose, Brad Paisley and Jason Aldean.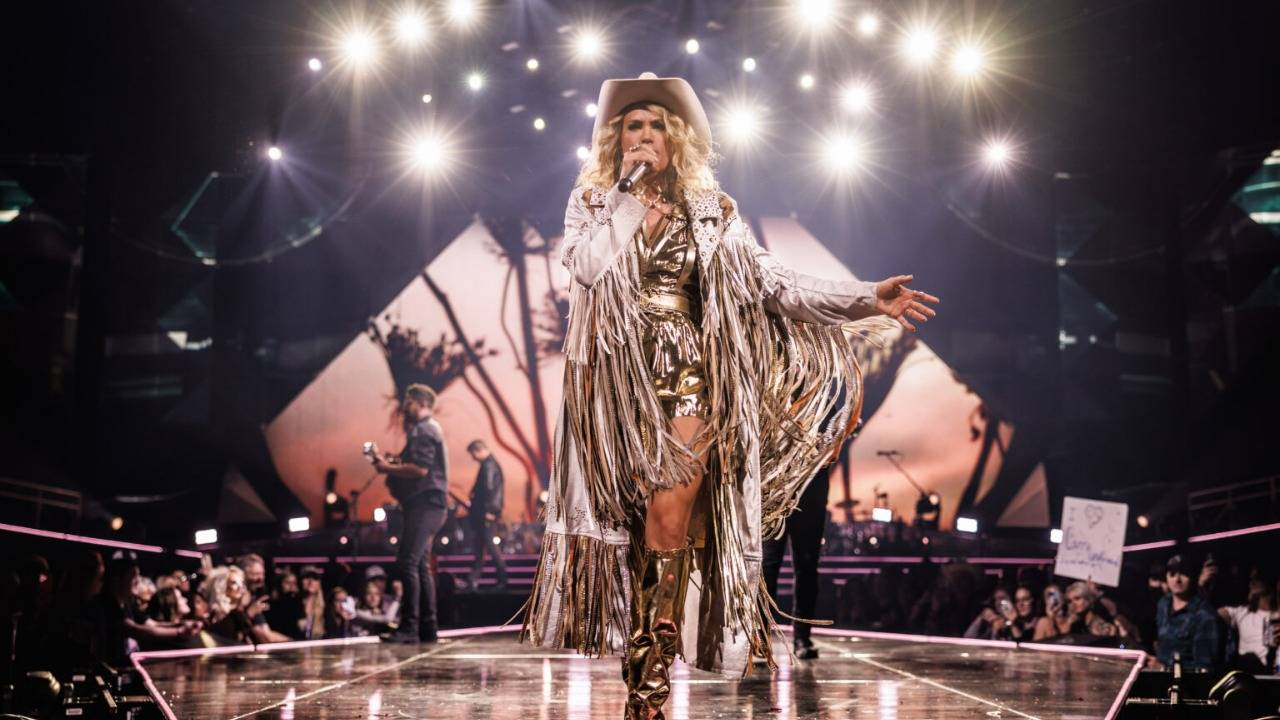 Carrie Underwood concluded her THE DENIM & RHINESTONES TOUR over the weekend, wrapping up a five-month jaunt from coast-to-coast. Jimmie Allen was the special guest on every show, and she welcomed surprise performers along the way.
Allen joined Underwood on stage nightly during her two-hour set for a high-energy dance and to duet on Denim & Rhinestones, the title track of her album and name of her tour.
"Words can't describe how thankful I am to this band and crew who helped put on this show night after night 💜" Underwood wrote on Instagram. "Thank you to everyone who helped make this happen and to all the venue staff who made us feel at home every night. @jimmieallen, thank you for putting on such a GREAT show - it was so fun to listen to you every night!! 🎶 This was a tour I'll never forget!"
Jason Aldean, Underwood's duet partner on their chart-topping "If I Didn't Love You," joined her as did her long-time friend and CMA Awards co-host Brad Paisley. Underwood and Paisley co-hosted the CMA Awards for 11 years, and the standing-room-only audience roared at their unexpected reunion. The pair performed their hit "Remind Me" for the Nashville crowd. But they weren't the only unannounced appearances on the expansive tour.
Underwood revisited her relationship with Guns N' Roses frontman Axl Rose who joined her on stage during her L.A. show at Crypto.com Arena. The pair have performed together multiple times before. This time, they collaborated on the rock group's signature hit "Welcome to the Jungle," which Underwood usually performs solo during her encore. Their on-stage relationship dates to last year when Rose made a surprise appearance during Underwood's headlining Stagecoach. Later in the year, she joined the band for two performances at UK's Tottenham Hotspur Stadium.
Underwood's THE DENIM & RHINESTONES TOUR launched October 15 with a sold-out show in Greenville, SC. The first leg stretched into November, then resumed in Miami in February. The mom of two played New York's Madison Square Garden, Nashville's Bridgestone Arena, and L.A.'s Crypto.com Arena before concluding in Seattle, WA, on St. Patrick's Day.
One dollar from each ticket sold for THE DENIM & RHINESTONES TOUR was contributed to the Tunnel to Towers Foundation (t2t.org), which has provided mortgage-free homes to Gold Star and fallen first responder families with young children since 9/11  and by building custom-designed smart homes for catastrophically injured veterans and first responders.
Following the conclusion of THE DENIM & RHINESTONES TOUR, Underwood will resume her ongoing REFLECTION: The Las Vegas Residency, which will return to the Resorts World Theatre in June. Tickets are on sale now at AXS.com.