Levi Hummon on Lessons and Legacies
The Singer-Songwriter on Finding His Voice and His Lane with Brand-New EP 'Patient'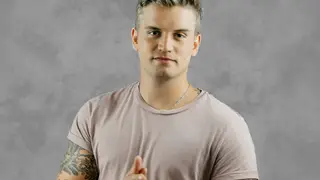 Legacy: it's one of the most powerful, meaningful, and often intimidating words in our vernacular. But not necessarily for singer-songwriter Levi Hummon, even with his parents by his side: Grammy-winning songwriter Marcus Hummon and Becca Stevens, CNN Hero and Thistle Farms founder.
For the younger Hummon, it's a welcomed challenge to rise to the occasion with the understanding that his journey is his own.
Hummon grew up in Nashville around the music business because of his father's illustrious career, but none of that guaranteed his path or success, which he began to discover shortly after signing his first publishing and record deal.
"You come back to town and you have a shadow and then basically fall out from under it," Hummon told CMT.com in a recent phone chat. "But also, there are expectations immediately and you've got to figure out what is realistic for yourself as an expectation."
That's where things got a little complicated his first big lap around Music Row in 2016 with his self-titled debut.
"I stepped into a record deal pretty much when I got back to town, and it was not the right time for me, but I learned a lot from it and made a lot of creative relationships that I've kind of carried over into this independent world," he said.
Hummon said that he was writing "decent" music at first, but it wasn't really reflective of the artist he is now. Still that period of time is one of the most important parts of his journey thus far.
"I think the most important thing for me as an artist was to go through what I went through and then step back and figure out, 'who am I as an artist? What is my lane? What's gonna define me versus everyone else? What do I love about this?'"
So, he hunkered down, began writing, hit the road with Kip Moore, Michael Ray, Sam Hunt, Kelsea Ballerini, and began to feel that clarity and assurance of his intuition, disregarding the status quo and turning so-called "failure" into fuel.
"That's kind of been my mentality behind almost everything: it can be everything from a crap show to really big monumental moment that happens in your life. Those are the ones that I remember the best and that help me learn more than anything," Hummon said. "I've taken that as my path and I think kind of the truth about Nashville."
And the other truth about Nashville is that you're going to pay your dues, no matter what, he wisely observed.
"You know, I've watched people no matter where you are in your career, whether you're Taylor Swift or Tim McGraw or you're just some artist that's trying to get a deal or just trying to make it, you'll pay your dues at some point," he said.
"It's not if you're going to pay your dues, it's when. It's always a blessing for an artist to find out early on. My dues are going to be discovering what my voice is and discovering what I love about music and why I want do this so badly."
So why does he want to do this so badly? It's an easy answer: happiness, and a calling, of course.
"That's always my thing: I just want to write songs and make music and if that's what I'm doing, then I'm happy," he told us.
With his brand-new EP Patient now available, Hummon is off on his new course, charging into the unknown armed with poppy melodies and sensibilities, and lyrical content chock full of vulnerability and heart. And while the unknown may seem scary to some, for the bold and determined Hummon it's a beautiful blank slate patiently waiting to hold the next part of his unique story.
And that fire and will alone is the very thing that will carry on the family legacy, and no doubt makes his mom and dad very, very proud.