Exclusive: Brittney Spencer Feels Validated, Says Success Reminder Her To "Keep Dreaming"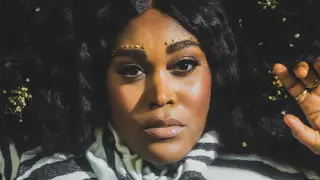 Brittney Spencer wowed country music fans last fall when she took the stage at the CMA Awards alongside Mickey Guyton and Madeline Edwards for a show-stopping performance of love my hair. Since then, Spencer has been working on new music and touring the country. Next weekend, she's back in Nashville to take the stage again.
Spencer will play the eighth Pilgrimage Music & Cultural Festival, which is September 24 – 25 at The Park at Harlinsdale Farm in Franklin, Tennessee. Other performers include Chris Stapleton, Brandi Carlile, Jon Batiste and The Avett Brothers, Lake Street Dive, Elle King, Lennon Stella, Trampled by Turtles, Dawes, Better Than Ezra, Marty Stuart, Celisse, Molly Tuttle & Golden Highway, Butch Walker, Black Joe Lewis & The Honeybears, Adia Victoria, Bones Owens, Jensen McRae and more.
"I'm just enjoying time on the road and enjoying time working on this album," Spencer says. "I've been so excited. I didn't do a lot of fall festivals last year, and this will be my first pass at it. Pilgrimage is going to be such a fun time. So many of my friends are going to be there. I'm excited to catch some really good sets."
Spencer said she's anxious to see Stapleton, Carlile, Batiste, King, Stella, Victoria, McRae and others. Spencer is playing the festival on Sunday, Sept. 25, and she can't come early, so she hopes some of those artists are playing on the same day she is. On Sept. 24, Spencer is playing Farm Aid with Willie Nelson in Raleigh, North Carolina. Just thinking about it gives her pause.
"My life is just out of this world right now," Spencer says. "It's incredible. It's exciting. It's nerve-wracking. And honestly, I, I can't believe that I get to be on stages with people that I've long admired and loved."
In the last 12 months, Spencer has been on tour with Carlile, Reba McEntire and Maren Morris.
"It's a wild ride, and I'm having so much fun," she says. "It's nervewracking every step of the way, but I'm having so much fun, and I get to do it with people I really love and care about. I get to do it for people who support me and my music. I'm probably missing a whole lot of words, but I'm extremely grateful."
Spencer is a Baltimore native who grew up listening to gospel and alternative rock before falling for country and then following it to Nashville. Acceptance at country radio is a dream of hers, and given the united effort of the country music community to embrace diversity, she's excited about the future.
Even before she collaborated with Guyton and Edwards on the CMA Awards, Spencer had the attention of the country music world. She was a PEOPLE Magazine One to Watch, a 2021 Spotify Hot Country Artist to Watch, a Pandora 2021 Artist to Watch, and a CMT Next Women of Country member. She says so many black country singers count The Chicks and Rascal Flatts as their most significant influences and suggests it's because the harmonies remind them of church. Those songs inspired Spencer to dive further into country music, where she found Keith Urban, Kenny Chesney and Alison Krauss. She followed that sound to Murfreesboro in Middle Tennessee, where she went to MTSU, and her career began to take off.
While she sang with Underwood on the CMA Awards in 2019, she believes her identity as an artist didn't solidify until a short time later – during quarantine.
Having spent the last year on the road and in the recording studio working on new music, the alternative country singer knows who she is now more than ever before.
"I moved to Nashville nine years ago, and my first gigs were on the street busking because I was too afraid to play at bars or any venue," she says. "I just taught myself how to play guitar when I moved here, and so I was so nervous. I was so afraid, and busking was a nice way for me to get acclimated to the city. Now I'm playing at Pilgrimage; it's kind of my wildest dream. It does mean a lot to me to play at Pilgrimage because Music City is where I got my footing."
Spencer has tested many of her new songs out on the road and says crowd reaction has informed the choices she's made in the studio.
"It has greatly informed my album and what I want to do with it," she says. "It's really exciting. I feel like I don't have a whole lot to say about it yet just because it's still in process, but it feels like a long time coming. I'm really excited to finally get my first album out."
Spencer wants her debut album to tell listeners about the parts of her life that she thinks they'll relate to the most.
"I think I kind of wear my story and my vulnerabilities on my sleeve, and I do that intentionally because it's just weird to just keep it all bottled up," she says. "I know I'm not the only one. I write songs about the awkwardness and the beauty of life, love, relationships, and the things that we discover about ourselves."
Spencer says Baltimore helped her understand the artist she wants to be and that Nashville made her the artist she never knew she could become.
"It's just so validating as an artist," she says. "It just reminds me to keep dreaming, to keep working and to keep hoping that maybe I get to do more things here in this town."